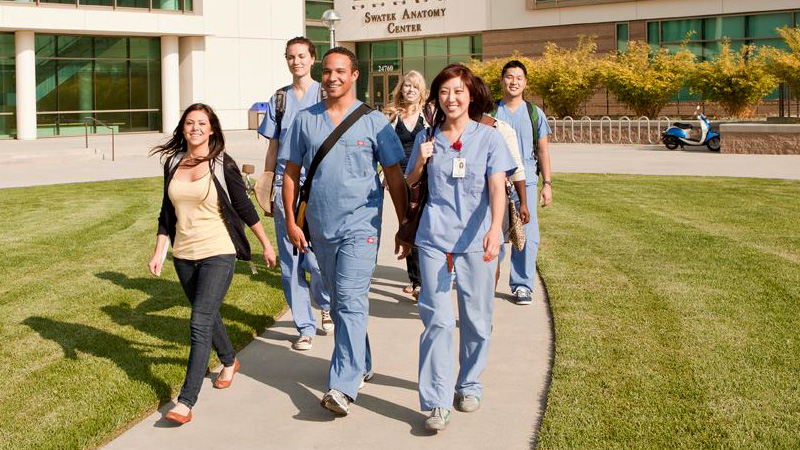 Mission Statement
Motto: To Make Man Whole
Mission: To continue the teaching and healing ministry of Jesus Christ
Vision: Transforming lives through education, healthcare and research
In harmony with our heritage and global mission:
We encourage personal and professional growth through integrated development of the intellectual, physical, social, and spiritual dimensions of each member of the university community and those we serve.
We promote an environment that reflects and builds respect for the diversity of humanity as ordained by God.
We seek to serve a worldwide community by promoting healthful living, caring for the sick, and sharing the good news of a loving God.
To achieve our mission we are committed to:
Our Students
Our primary responsibility is the education of students, who come from diverse ethnic and cultural backgrounds, enabling them to acquire the foundation of knowledge, skills, values, attitudes, and behaviors appropriate for their chosen academic or healthcare ministry. We nurture their intellectual curiosity. We facilitate their development into active, independent learners. We provide continuing educational opportunities for our alumni and professional peers. We encourage a personal Christian faith that permeates the lives of those we educate.
Our Faculty, Staff, and Administration
We respect our faculty, staff, and administration who through education, research, and service create a stimulating learning environment for our students. They contribute to the development of new understandings in their chosen fields. They demonstrate both Christian values and competence in their scholarship and professions.
Our Patients and Others We Serve
We provide humanitarian service through people, programs, and facilities. We promote healthful living and respond to the therapeutic and rehabilitative needs of people. We seek to enhance the quality of life for individuals in local, regional, national, and world communities.
Our God and Our Church
We believe all persons are called to friendship with a loving God both now and throughout eternity. We support the global mission of the Seventh-day Adventist Church by responding to the need for skilled Christian health professionals and scholars. We seek to honor God and to uphold the values of the Seventh-day Adventist Church and its commitment to awakening inquiry. We are drawn by love to share the good news of God expressed through the life and gospel of Jesus Christ and to hasten His return.
A Seventh-day Adventist Organization
Core Values
The University affirms these values as central to its view of education.
Compassion
Value Definition: Reflects the love of God with respect, mercy and empathy.
Behavioral Attributes:
Listens to others with kindness and concern.
Consistently treats others with courtesy. 
Encourages an environment that is inclusive. 
Anticipates and responds to the needs and suffering of others.
Excellence
Value Definition: Exceeds expectations with effectiveness, reliability and efficiency.
Behavioral Attributes:
Carefully analyzes and balances all aspects of each decision.
Establishes high standards for exceptional Mission-Focused Learning and quality health care.
Participates in education and clinical care that is evidence-based.
Takes all necessary measures to ensure personal and collective safe practices.
Humility
Value Definition: Puts self-importance aside for the greater good of others. 
Behavioral Attributes:
Relates to others with selfless caring.
Learns from teachable moments.
Treats everyone with thoughtfulness and patience. 
Lives life with a commitment to service.  
Integrity
Value Definition: Carries out actions with honesty and trustworthiness.
Behavioral Attributes:
Builds dependability through honest communication with others.
Respects personal and academic freedom.
Follows through on commitments.
Holds self and others accountable for actions.
Justice
Value Definition: Commits to diversity, equity and inclusion. 
Behavioral Attributes:
Considers how one's actions will affect others and the environment around.
Calls out actions that are in conflict with our values.
Supports efforts to remove systemic barriers.
Protects the dignity and worth of all individuals.
Works toward quality healthcare access for all.
Teamwork
Value Definition: Collaborates to achieve a shared purpose.
Behavioral Attributes:
Recognizes, understands and celebrates the unique strengths of all team members.
Shares knowledge and learning opportunities for team growth.
Recognizes the contributions of others and affirms their successes.
Participates willingly whenever needs arise.
Wholeness
Value Definition: Loved by God, growing in health, living with purpose in community. 
Behavioral Attributes:
Supports the spiritual value of faith-based education and health care.
Demonstrates a positive, peaceful and hopeful attitude.
Promotes Christ's healing ministry through prayer, positive relationships and a healthy lifestyle.  
Lives a life that is morally sound and moderate in all things.