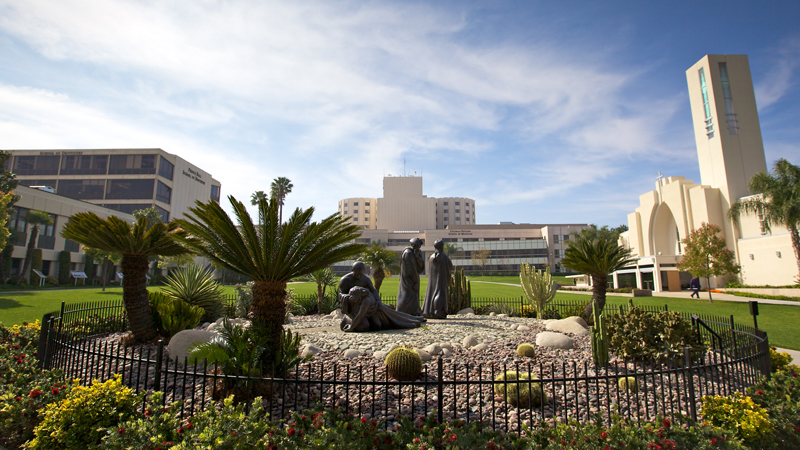 Since 1905, the unwavering dedication of those who promoted healthful living and provided care for the sick has shaped and sustained one of the leading health-sciences educational institutions and hospitals in the nation. Loma Linda University and Loma Linda University Medical Center, as it is known today, proudly celebrated its 100 year anniversary in 2005. From humble beginnings, Loma Linda University and Loma Linda University Medical Center have grown to be leaders in patient care and pioneers of life-saving medicine.
The property where Loma Linda now stands was first developed as a plush Mound City Hotel during the 1887-1888 boom days. Following the 1890 depression, the hotel complex failed. A group of investors bought the failed property, investing $155,000 in hopes of making it one of the finest health resorts in Southern California. This effort also failed.
It was the kind of place that aroused enthusiasm. When Ellen G. White, Adventist pioneer and spiritual guide, first visited Loma Linda, she was enchanted by its charms, describing it as "the most desirable place I have ever seen for a sanitarium."
Through divine providence, the property came to the attention of John Burden, one of the founders of Loma Linda. The asking price of $110,000 was prohibitive for the fledgling Seventh-day Adventist Church. The price continued to drop, however, until the owners ordered the property sold for $40,000. With private funds, John Burden and others obtained an option on the property and paid off the note. It then discounted to $38,900 before the end of the year.
On August 26, 1905, Loma Linda Sanitarium was incorporated; six weeks later, on October 13, the first two patients were admitted. Loma Linda was in business! The present 11-story Loma Linda University Medical Center opened on July 9, 1967, an outgrowth of the original Sanitarium on the hill. With the completion of Loma Linda University Children's Hospital in late 1993, nearly 900 beds are now available for patient care, including beds at Loma Linda University Medical Center East Campus and Loma Linda University Behavioral Medicine Center. Loma Linda University Healthcare, a management service organization, supports the many programs and services provided by our 400-plus faculty physicians. LLUMC operates some of the largest clinical programs in the United States in areas such as neonatal care and outpatient surgery and is recognized as the international leader in infant heart transplantation and proton treatments for cancer. Each year, the institution admits more than 33,000 inpatients and serves roughly half a million outpatients. As the only tertiary-care hospital in the area, LLUMC is the only Level I regional trauma center for Inyo, Mono, Riverside, and San Bernardino counties.
In December, 1905, Loma Linda accepted its first nursing students, and on July 10, 1907, the first Loma Linda nurse commencement was held. Today, more than 3,000 students study in seven schools and the Faculty of Religion and Faculty of Graduate Studies. More than 55 programs are offered by the schools of Allied Health Professions, Dentistry, Medicine, Nursing, Pharmacy, Public Health, and Behavioral Health. Curricula offered range from certificates of completion and associate in science degrees to doctor of philosophy and professional doctoral degrees. Students from more than 80 countries around the world and virtually every state in the nation are represented in Loma Linda University's student body.
Through providence, Loma Linda has truly grown and prospered beyond the early leaders' expectations. It has emerged into a health-sciences university and medical center internationally known for advanced technology, service-oriented medical care, and education.
In February, 2005, Loma Linda celebrated this milestone with a series of events and other commemorative activities through April, 2006. "Fulfilling the Vision" was selected as our centennial theme, referring to the institution's vision of excellence in Christ-centered education, healthcare, and "making man whole."