Commemorating the Global Mission of our Institution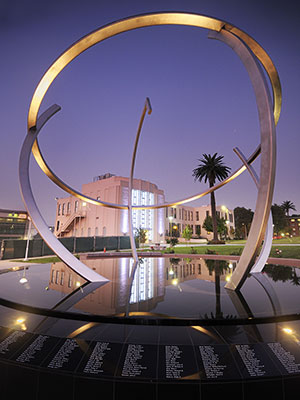 The centerpiece of the Centennial Pathway is the Mission Globe, a 26-foot tall stylized globe. Engraved in granite at the base of the globe, are the names of our alumni and staff who have served for a cumulative period of one year or more around the globe. Loma Linda University Health's commitment to global missions is one of the hallmarks of our history, making us unique among universities.
View the names on the Mission Globe
Application and Criteria
Alumni and staff are welcome to submit their names to be engraved on the Mission Globe at no charge. You may submit your name or the name of someone else who has served overseas for a cumulative of one year.  
Simply complete the Mission Globe Application and submit it to our office.
Contact Information
Phone
Call the Centennial Pathway office at 909-558-5010, or via on-campus extension at 55010.
E-mail
Mail
Loma Linda University Health
Centennial Pathway
P.O. Box 2000
Loma Linda, CA 92354