Special Notification
Please see the bottom of this page for information about the cost of attendance.
Program Description
The PhD in Systems, Families and Couples is a 4-year doctoral program that provides students with the opportunity to develop specialized expertise in research, teaching, leadership and practice within the field of family science. The program follows a scientist-practitioner model where students are provided considerable hands-on experience and mentorship.

The program provides elective concentrations in:
Medical Family Therapy
Community Mental Health Practice
Clinical Supervision
Program Length
3-4 years full-time (part-time options available)
Possible Careers
Graduates of the PhD program in Systems, Families, and Couples are multiculturally-informed and well-prepared to serve as ethically competent leaders who advance the field of family science in the areas of couple and family therapy and family life education. Our alumni most often work as faculty members in academic and clinical programs, social and behavioral science researchers, clinic directors, advanced clinicians and clinical supervisors, both nationally and internationally. Additional career paths that our alumni have taken have included organizational consultation and ministry.

Qualified graduates of the School of Behavioral Health are given priority interviewing for behavioral health positions with Loma Linda University Health.
Application Deadlines
| Quarter | Application Open | Priority Deadline | Final Deadline |
| --- | --- | --- | --- |
| Autumn of 2024 | Nov 6, 2023 | Feb 26, 2024 | Apr 26, 2024 |
Admissions Requirements
Acceptance into the PhD in Systems, Families and Couples program is based on an integrated evaluation of the following criteria:
Master's degree.
A grade-point average (GPA) of at least 3.3 in their master's degree program
Three letters of reference (2 academic and 1 professional)
Official transcripts for all college and graduate study
Oral interview with department faculty
Prior to matriculation students must pass a background check
*International students: TOEFL, 550 (pencil test) or 213 (computer scored or 80 (internet based test) (English as a second language only).
Prerequisites
Although there are no specific course prerequisites, individual applicants whose master's degree does not reflect this perspective may be asked to enroll in additional courses.
Discipline Accrediting Agency
The program is accredited by the Commission on Accreditation of Marriage and Family Therapy Education (COAMFTE), the accrediting body associated with the American Association for Marriage and Family Therapy (AAMFT).

This program is the only Certified Family Life Education (CFLE) approved academic doctoral program in California, allowing students to become Certified Family Life Educators upon graduation.
State Accrediting Agency
Loma Linda University is regionally accredited by the WSCUC (Western Association of Schools and Colleges [WASC] Senior College and University Commission).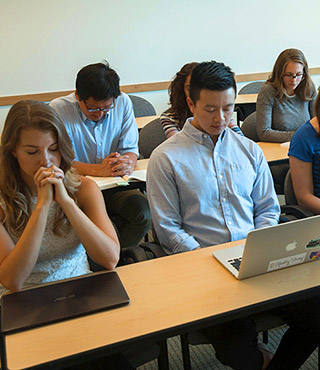 Integrating faith and health
Loma Linda University educates and encourages a balanced life by living our values of humility, compassion, justice, integrity, excellence, freedom and self- control. You will be surrounded by faculty who are committed to healthcare innovation and research while engaging your spirituality.
Expected Cost of Attendance
The following estimated cost of attendance is based on full-time attendance for the number of months enrolled per academic year. Estimated amounts may vary based on a number of factors. Students may use these estimates when applying for financial aid.
Required Program Costs
Academic Year 2023-2024
Year of Program


Months Enrolled

Year 1


9

Year 2


12

Year 3


12

Tuition & Fees
$24,021
$32,028
$24,996
Books, Materials, Supplies & Equipment Allowance


(May or may not be purchased through the school)

$4,000
$1,600
$1,100
Other Educational Costs
Non-required costs that can be funded with scholarships/loans.
Year of Program


Months Enrolled

Year 1


9

Year 2


12

Year 3


12

Living Expense (Food & Housing Allowance)


Students will be assigned one of the following Living Expense Budget Options:

On Campus Dorm
$10,800
$14,400
$14,400
LLU Owned Rental Property
$17,280
$23,040
$23,040
$18,180
$24,240
$24,240
Undergraduate Dependent w/ Parents
$6,480
$8,640
$8,640
Off Campus
$17,280
$23,040
$23,040
Transportation Allowance
$3,150
$4,200
$4,200
Miscellaneous Personal Expenses
$2,700
$3,600
$3,600
Federal Student Loan Fees
$216
$216
$216
Cost of Obtaining Professional License
0
0
0
Dependent Care


(See Budget Revision Request form)

Available upon Request
Disability-Related Expenses


(See Budget Revision Request form)

Available upon Request
Notes
Estimated amounts are for the academic year specified only. Amounts are based on full-time attendance for the number of months enrolled per academic year. International students need to calculate 12 months of living expenses based on these amounts.
Amounts are expected to increase each year consistent with inflation in the professional education sector.
To qualify for financial aid, most students must be enrolled at least half time in an aid eligible program and be taking degree requirements. Half time is 6 units in a quarter for undergraduate programs and 4 units in a quarter for graduate programs.