Program Description

PROFESSION
The Entry-level DPT program is for individuals with no previous degree in Physical Therapy or who have an Associate degree in the field of Physical Therapy Assistant (PTA). A Bachelor degree in any field, earned from a accredited university/college, is required. The DPT program is 3 years in length; always beginning in June. A minimum cumulative GPA of 3.0 is required. However, to be competitive, over the past few years the applicant has needed a 3.5 GPA or higher.
In calculating the prerequisite GPA, we count science prerequisites, all non-science prerequisites, two humanities courses, one social science, and the freshman/English composition sequence. If you do not have an additional social science course, we will then count three humanities courses. For any course repeated, the most recent grade will be used. We have a two attempt rule which states if an applicant repeats a course more than two times, we will count the grade received on the second attempt.
At the time of application:
The Anatomy and Physiology sequence must be completed
No more than three science prerequisites can be outstanding
Science prerequisites can be no older than ten years
Forty observation hours must be completed prior to receiving an interview
Program Length
3 years
Possible Careers
Within the profession there are many specialties including orthopaedics, neurology, pediatrics, geriatrics, cardiopulmonary, hand rehabilitation, and sports physical therapy. Physical therapists work in acute-care and convalescent hospitals, rehabilitation centers, children's centers, private practice, athletic training and sports medicine programs, research institutions, school systems, and home-care agencies.
Application Deadlines
All applications must be submitted through www.ptcas.org. The priority deadline is October 1st with a final deadline of December 1st. Applicants are strongly encouraged to apply by the priority deadline. The Departments uses the date applicants e-submit their PTCAS application to see if they have meet our deadlines. For example, if you e-submit your PTCAS application on August 25th, you have met our priority deadline. Once applicants have e-submitted their application and PTCAS has received all transcripts, PTCAS will verify the application. This can take several weeks to verify. After the application has been verified, PTCAS will send the application to LLU. Once we have received it, an email containing a link for the secondary application, will be sent to you. It can take up to a week, after LLU has received your application, before you will receive the secondary application email.
Admissions Requirements
To be eligible for admission, the applicant must have:
Minimum cumulative GPA of 3.0
Students need to have an earned bachelor's degree prior to acceptance. Specific course requirements apply.
International students must provide a TOEFL exam score.
Note: "C minus" grades are not accepted for credit!
When retaking classes, the DPT Department will accept up to two attempts. If a student takes a class three or more times, the Department will count the grade earned on the second attempt.
Prerequisites
Natural Sciences
Human Anatomy & Physiology with lab, complete sequence
General Chemistry with lab, complete sequence
General Physics with lab, complete sequence
Two additional Biological Science course
Statistics
Medical Terminology
Social Sciences
General Psychology

Human Growth & Development/Developmental Psychology of the Lifespan
Communication
One course in oral communication skills
Observation experience: 80 observation/work hours are required – 20 hours must be in an inpatient setting and 20 hours must be in an outpatient setting. The remaining 40 hours can be in any setting.

No Graduate Record Examinations (GRE) required

Discipline Accrediting Agency
The program is accredited by the Commission on Accreditation in Physical Therapy Education of the American Physical Therapy Association, 111 North Fairfax Street, Alexandria, VA 22314; telephone (703) 706-3245.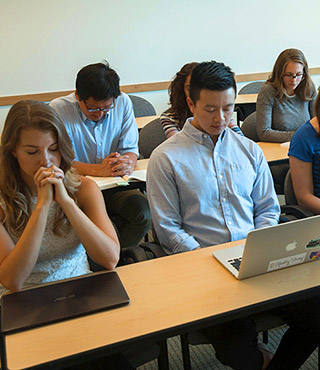 Integrating faith and health
Loma Linda University educates and encourages a balanced life by living our values of humility, compassion, justice, integrity, excellence, freedom and self- control. You will be surrounded by faculty who are committed to healthcare innovation and research while engaging your spirituality.
Expected Cost of Attendance
The following estimated cost of attendance is based on full-time attendance for the number of months enrolled per academic year. Estimated amounts may vary based on a number of factors. Students may use these estimates when applying for financial aid.
Required Program Costs
Academic Year 2023-2024
Year of Program


Months Enrolled

Year 1


12

Year 2


10

Year 3


10

Tuition & Fees
$49,000
$46,424
$17,444
Books, Materials, Supplies & Equipment Allowance


(May or may not be purchased through the school)

$1,865
$1,665
$565
Other Educational Costs
Non-required costs that can be funded with scholarships/loans.
Year of Program


Months Enrolled

Year 1


12

Year 2


10

Year 3


10

Living Expense (Food & Housing Allowance)


Students will be assigned one of the following Living Expense Budget Options:

On Campus Dorm
$14,400
$12,000
$12,000
LLU Owned Rental Property
$23,040
$19,200
$19,200
$24,240
$20,200
$20,200
Undergraduate Dependent w/ Parents
$8,640
$7,200
$7,200
Off Campus
$23,040
$19,200
$19,200
Transportation Allowance
$4,200
$3,500
$3,850
Miscellaneous Personal Expenses
$3,600
$3,000
$3,300
Federal Student Loan Fees
$2,926
$2,578
$1,408
Cost of Obtaining Professional License
0
0
$1,050
Dependent Care


(See Budget Revision Request form)

Available upon Request
Disability-Related Expenses


(See Budget Revision Request form)

Available upon Request
Notes
The first year of the DPT program is a 12 month cycle and the cost of the first year is considerable higher than the following two years. The cost of attendance varies from year to year. Please contact the office of Student Finance for up-to-date costs.
Does the institution offer financial assistance specific to DPT students? Yes
Does the program/institution offer scholarships specific to DPT students? Yes
Does the program offer graduate assistantships to specific DPT students? No
Note: Other opportunities may exist at the institution for FINANCIAL SUPPORT - please contact the program for further information. APTA student members are encouraged to visit the APTA Financial Solutions Center at: https://www.apta.org/your-career/financial-management/financial-solutions-center
Average student debt from the DPT program: $134,320
Average total student debt after completing the DPT program: $141,990
Estimated amounts are for the academic year specified only. Amounts are based on full-time attendance for the number of months enrolled per academic year. International students need to calculate 12 months of living expenses based on these amounts.
Amounts are expected to increase each year consistent with inflation in the professional education sector.
To qualify for financial aid, most students must be enrolled at least half time in an aid eligible program and be taking degree requirements. Half time is 6 units in a quarter for undergraduate programs and 4 units in a quarter for graduate programs.