Program Description
What is genetic counseling?
Genetic counseling is a process of communicating medical and scientific information to an individual or family with a genetic condition or birth defect. One of the main objectives is to assist families and individuals to understand complex genetic and medical information in the simplest way possible.
Who are genetic counselors?
Genetic counselors (GCs) are health professionals with specialized training and experience in the areas of medical genetics and counseling. Most GCs enter the field from a variety of disciplines, including biology, genetics, nursing, psychology, public health and social work.
What separates genetic counseling from other health care professionals is the unique combination of expertise in medical and molecular genetics and skills in psychosocial counseling. This awareness of and concern for the psychological aspects of the impact of genetic testing and inherited conditions has been integral to the development of the field from the beginning and resonates with Loma Linda University Health's mission of whole person care. 
Program Length
A two-year program leading to a MS in Genetic Counseling. The program expects to start accepting applications in November 2024. The program expects to start in Fall 2025.
Possible Careers
Genetic counselors work in many settings as integral members of the healthcare team. Almost all genetic counselors help translate genomic science to improve the lives of people with common and rare genetic conditions. Some genetic counselors do not work with patients, an instead work in a different area, such as reserach, teaching, work with policymakers and reports for genetic testing companies.
Admissions Requirements
Applicants to the MSGC Program are individuals with an undergraduate degree who can balance high academic achievement with excellent written and verbal communication skills, adequate advocacy experiences and insight into their choice of genetic counseling as a career. 
—Transcripts:
Bachelor's degree from a U.S. institutionally accredited college or university or equivalent
Required: At least one quarter or semester of college-level coursework in genetics (designed for life science majors such as biology, molecular and cell biology) to be completed at an institutionally accredited college or university within USA or Canada or its equivalent
Recommended: At least one quarter or semester of college-level biochemistry, psychology or sociology and statistics or biostatistics
Unofficial transcripts should be submitted from all post-secondary colleges or universities attended, including from those at which the candidate took only one or a few courses to satisfy pre-requisites. Admitted students must submit official transcripts
All prerequisite science courses must be taken within the last 10 years from the time of application
—International students can access information regarding LLU requirements for International students
Per LLU School of Medicine policy, applicants from schools in countries other than USA and Canada are required to present verification of academic credentials and a U.S equivalency report
—Minimum overall GPA of 3.00
—Curriculum Vita
—Personal Statement (500 words): Describing personal motivating factors in genetic counseling as a career choice and a self-assessment of strengths and potential anticipated challenges
—Advocacy Experience: Compensated or volunteer advocacy experience(s) in a counseling or support role in health care, health behaviors or similar agencies. Applicants may have experiences in different settings, both in-person and remote, including crisis hotlines, Planned Parenthood, domestic abuse shelters, homeless shelters, hospice care facilities or facilities catering to individuals with physical or intellectual impairments, interviewing participants in a research setting etc.
—Shadowing experiences and internships: Shadowing or interning with a genetic counselor is ideal, but not required.
—Three Letters of Recommendation: Letters must be from individuals who can address the readiness of the applicant for graduate school and for the profession. One letter must be from a mentor in the applicant's advocacy or counseling experience, which should be of substantial duration. All letters to be submitted electronically.
—National Matching Services (NMS): All applicants must register with the Genetic Counseling Admissions Match through National Matching Services (NMS) and must provide a Match ID number to be considered for admission.
—GRE: The GRE is not required for admission.
—Interviews: Personal interviews with the LLU MSGC Program Admissions Committee will be scheduled between February and early April. Deadlines for the GC Admissions Match Process is usually available in the fall of the previous year.
Prerequisites
Coursework:
All students in the MSGC program are required to complete the coursework listed in the table below. Supplementary experiences are included here (attendance and participation in case conferences, patient review meetings, journal clubs etc.) NOTE: There are no transfers of credit into MSGC Program. All courses in the curriculum must be completed at Loma Linda University.
Fieldwork experience:
Students will have placements for fieldwork observation in each quarter of the first year and will start fieldwork rotations in the summer after the first year. Each fieldwork rotation will be for approximately 180- 200 hours every quarter. Two of the placements can be for a shorter duration of time in any quarter to provide supplemental experiences. Time spent in placements will vary according to the academic year, site availability, student interest and other program guidelines.
Capstone project:
Students are required to complete a Capstone research project individually under the guidance of a Capstone Committee. Students will present the completed project orally and in writing after final approval from the Committee just prior to graduation. Students will also present the findings at the Annual Postgraduate Convention at the LLU School of Medicine and will submit an abstract at a regional or national professional conference.
Comprehensive exams:
A comprehensive exam (board-style) will be administered each at the end of the first year and at the end of the second year of the program. Students will also be required to take self-assessment modules throughout the second year in preparation for board certification by the American Board of Genetic Counseling.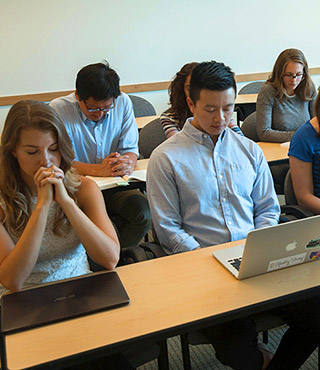 Integrating faith and health
Loma Linda University educates and encourages a balanced life by living our values of humility, compassion, justice, integrity, excellence, freedom and self- control. You will be surrounded by faculty who are committed to healthcare innovation and research while engaging your spirituality.
Notes
Estimated amounts are for the academic year specified only. Amounts are based on full-time attendance for the number of months enrolled per academic year. International students need to calculate 12 months of living expenses based on these amounts.
Amounts are expected to increase each year consistent with inflation in the professional education sector.
To qualify for financial aid, most students must be enrolled at least half time in an aid eligible program and be taking degree requirements. Half time is 6 units in a quarter for undergraduate programs and 4 units in a quarter for graduate programs.