Special Notification
Please see the bottom of this page for information about the cost of attendance.
Program Description
The MS in Counseling degree employs quality academic and clinical standards to thoroughly prepare graduates for careers in mental/behavioral health. The program consists of 90 quarter units of academic work and 280 hours of clinical experience. Students may include the School Counseling certificate (leading to the Pupil Personnel Services credential), the Drug and Alcohol Counseling certificate, or the Play Therapy certificate. Students who do not pursue one of the certificates complete eight elective units.
LPCC Clinical Counselor License
Successful completion of the Loma Linda University Counseling MS program prepares graduates to pursue licensure as Professional Clinical Counselors through the California Board of Behavioral Sciences (BBS).
Program Length
2 years
Possible Careers
Graduates from the counseling degree program upon completion of 3,000 hours of supervised experience and examination may work as Licensed Professional Clinical Counselors (LPCC) in environments such as community mental health agencies, career centers, recovery programs, legal systems, educational institutions, churches, medical facilities, or in independent private practice.
Qualified graduates of the School of Behavioral Health are given priority interviewing for behavioral health positions with Loma Linda University Health.
Application Deadlines
| Quarter | Application Open | Priority Deadline | Final Deadline |
| --- | --- | --- | --- |
| Autumn of 2024 | Oct 4, 2023 | Feb 2, 2024 | Jun 30, 2024 |
Admissions Requirements
Candidates may be admitted to the MS in Counseling during any of the four quarters beginning in June, September, January, and March. Applicants must complete a bachelor's degree from a regionally accredited institution. No prerequisite examinations or courses are required for admission. The following admission criteria apply:
Minimum 3.0 undergrad GPA and receipt of official transcripts required prior to consideration for admission. Three letters of recommendation from those familiar with an applicant's academic ability are required. Applicants write a personal statement with their application
Applicants are interviewed by department faculty
Applicants for whom English is not first language must provide scores for TOEFL as published in the current edition of the Loma Linda University Catalog
Applicants who are not U.S. citizens or permanent residents must provide a current, valid student visa
Once admitted, candidates must complete a LLU health clearance, which includes TB testing and current vaccinations
Prerequisites
Please reference the Admissions Requirements.
State Accrediting Agency
Loma Linda University is regionally accredited by the WSCUC (Western Association of Schools and Colleges [WASC] Senior College and University Commission).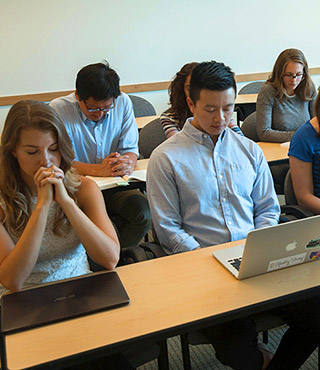 Integrating faith and health
Loma Linda University educates and encourages a balanced life by living our values of humility, compassion, justice, integrity, excellence, freedom and self- control. You will be surrounded by faculty who are committed to healthcare innovation and research while engaging your spirituality.
Expected Cost of Attendance
The following estimated cost of attendance is based on full-time attendance for the number of months enrolled per academic year. Estimated amounts may vary based on a number of factors. Students may use these estimates when applying for financial aid.
Required Program Costs
Academic Year 2023-2024
Year of Program


Months Enrolled

Year 1


9

Year 2


12

Tuition & Fees
$45,117
$39,760
Books, Materials, Supplies & Equipment Allowance


(May or may not be purchased through the school)

$3,000
$3,000
Other Educational Costs
Non-required costs that can be funded with scholarships/loans.
Year of Program


Months Enrolled

Year 1


9

Year 2


12

Living Expense (Food & Housing Allowance)


Students will be assigned one of the following Living Expense Budget Options:

On Campus Dorm
$10,800
$14,400
LLU Owned Rental Property
$17,280
$23,040
$18,180
$24,240
Undergraduate Dependent w/ Parents
$6,480
$8,640
Off Campus
$17,280
$23,040
Transportation Allowance
$3,150
$4,200
Miscellaneous Personal Expenses
$2,700
$3,000
Federal Student Loan Fees
$216
$216
Cost of Obtaining Professional License
0
0
Dependent Care


(See Budget Revision Request form)

Available upon Request
Disability-Related Expenses


(See Budget Revision Request form)

Available upon Request
Notes
Expected costs for the 2022-2023 academic year are based on full time attendance. From year to year, increases are anticipated consistent with inflation in the professional education sector.
Many students receive financial aid in this program.
Estimated amounts are for the academic year specified only. Amounts are based on full-time attendance for the number of months enrolled per academic year. International students need to calculate 12 months of living expenses based on these amounts.
Amounts are expected to increase each year consistent with inflation in the professional education sector.
To qualify for financial aid, most students must be enrolled at least half time in an aid eligible program and be taking degree requirements. Half time is 6 units in a quarter for undergraduate programs and 4 units in a quarter for graduate programs.