Program Description
Loma Linda University's MA in Bioethics program provides a dynamic, interdisciplinary approach to exploring historic traditions of ethical thought while also developing critical skills for dealing with contemporary, moral, and social issues facing society today. An integral part of the program is the opportunity to gain clinical experience while learning from experienced, qualified professors, all within a Christian context and perspective. Dual-degree enrollment is available for current LLU students in select programs.
Program Length
The MA in Bioethics degree requires 48 units of coursework consisting of numerous courses of mostly 3 units each, and culminates in two 3/2-unit capstone courses, Masters Seminar I & II. One of the Masters Seminars focuses on comprehensive knowledge and the other on a publishable paper. Students must maintain an overall GPA of 3.3 or above.
Possible Careers
This program is especially valuable for those preparing for careers as clinical ethicists, nurses, physicians, dentists, theologians, lawyers, and most healthcare professions.
Application Deadlines
| Quarter | Application Open | Priority Deadline | Final Deadline |
| --- | --- | --- | --- |
| Autumn of 2024 | Jul 1, 2023 | Nov 1, 2023 | May 1, 2024 |
| Autumn of 2025 | Sep 1, 2023 | Nov 1, 2024 | May 1, 2025 |
| Autumn of 2026 | Jan 1, 2024 | Nov 1, 2025 | May 1, 2026 |
| Autumn of 2027 | Jan 1, 2025 | Nov 1, 2026 | May 1, 2027 |
Admissions Requirements
Bachelor's degree from a regionally-accredited institution
Undergraduate GPA of 3.3 minimum
Essay (800 words minimum) on the applicant's background and goals and how earning an M.A. degree is envisioned to further such goals
Personal interview
All official transcripts of college/university work (mailed directly to LLU)
Three letters of recommendation (two academic and one from clergy)
Graduate Records Exam (GRE) scores, not more than five years old. Other standardized tests may be accepted upon request.
International applicants must submit current TOEFL scores and evaluations of any international transcripts – please visit http://www.llu.edu/apply/intltrans.html
Prerequisites
Please reference the Admissions Requirements.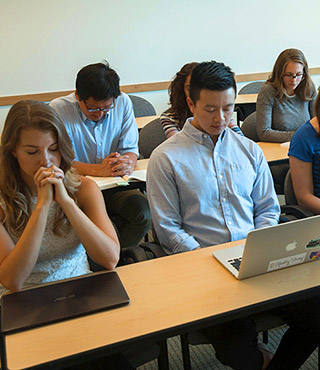 Integrating faith and health
Loma Linda University educates and encourages a balanced life by living our values of humility, compassion, justice, integrity, excellence, freedom and self- control. You will be surrounded by faculty who are committed to healthcare innovation and research while engaging your spirituality.
Expected Cost of Attendance
The following estimated cost of attendance is based on full-time attendance for the number of months enrolled per academic year. Estimated amounts may vary based on a number of factors. Students may use these estimates when applying for financial aid.
Required Program Costs
Academic Year 2023-2024
Year of Program


Months Enrolled

Year 1


12

Tuition & Fees
$47,052
Books, Materials, Supplies & Equipment Allowance


(May or may not be purchased through the school)

$1,000
Other Educational Costs
Non-required costs that can be funded with scholarships/loans.
Year of Program


Months Enrolled

Year 1


12

Living Expense (Food & Housing Allowance)


Students will be assigned one of the following Living Expense Budget Options:

On Campus Dorm
$14,400
LLU Owned Rental Property
$23,040
$24,240
Undergraduate Dependent w/ Parents
$8,640
Off Campus
$23,040
Transportation Allowance
$4,200
Miscellaneous Personal Expenses
$3,600
Federal Student Loan Fees
$217
Cost of Obtaining Professional License
0
Dependent Care


(See Budget Revision Request form)

Available upon Request
Disability-Related Expenses


(See Budget Revision Request form)

Available upon Request
Notes
Financial assistance at the graduate level is limited. Please refer to the Financial Aid section on the LLU website. Scholarships are available to enrolled students at the LLU School of Religion.
Estimated amounts are for the academic year specified only. Amounts are based on full-time attendance for the number of months enrolled per academic year. International students need to calculate 12 months of living expenses based on these amounts.
Amounts are expected to increase each year consistent with inflation in the professional education sector.
To qualify for financial aid, most students must be enrolled at least half time in an aid eligible program and be taking degree requirements. Half time is 6 units in a quarter for undergraduate programs and 4 units in a quarter for graduate programs.