Program Description
The online RN to BS track is designed for students looking to earn a bachelor's degree and open the door to greater job opportunities. Under the guidance and instruction of our expert and caring faculty, students are able to investigate new areas of professional interest along with enhancing their personal and professional growth.

This program is for registered nurses who wish to complete their BS degree. It prepares students for professional nursing in both acute and community settings. The LLU RN to BS online program was designed with full-time working professionals in mind. As such, the program offers the flexibility of part-time or full-time enrollment and the convenience of online learning.

Beginning in Summer 2020, RN to BS students will be able to take up to 20 units of online pre-requisite courses with Loma Linda University in order to meet requirements. The life-span development pre-requisite may be filled with another area of social science such as Economics or Developmental Psychology.
Program Length
2.5 Years (8 quarters)
Possible Careers
Leadership positions (charge nurse, educator, manager, public health, schools)
Application Deadlines
| Quarter | Application Open | Priority Deadline | Final Deadline |
| --- | --- | --- | --- |
| Spring of 2024 | Oct 1, 2022 | — | Oct 1, 2023 |
Prerequisites
Anatomy and Physiology I (with lab) 4 quarter units
Anatomy and Physiology II (with lab) 4 quarter units
Intro to Chemistry (with lab) 4 quarter units
Basic Medical Microbiology (with lab) 5 quarter units
Public Speaking 4 quarter units
English Composition (full sequence) 9 quarter units
General Psychology 4 quarter units
3rd area of social science (Dev. Psych/Lifespan Dev./Econ/Politics) 4 quarter units
Intro to Sociology 4 quarter units
General Elective 4 quarter units
Statistics (Student can take within the program) 4 quarter units
Physical Education 2 activity classes
Humanities 16 quarter units
College Algebra 4 quarter units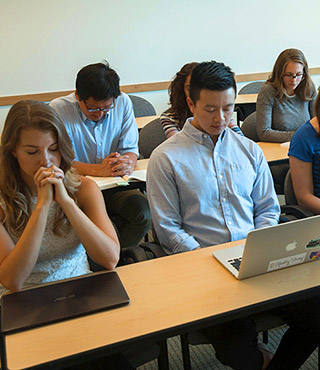 Integrating faith and health
Loma Linda University educates and encourages a balanced life by living our values of humility, compassion, justice, integrity, excellence, freedom and self- control. You will be surrounded by faculty who are committed to healthcare innovation and research while engaging your spirituality.
Expected Cost of Attendance
The following estimated cost of attendance is based on full-time attendance for the number of months enrolled per academic year. Estimated amounts may vary based on a number of factors. Students may use these estimates when applying for financial aid.
Required Program Costs
Academic Year 2023-2024
Year of Program


Months Enrolled

Year 1


9

Year 2


3

Tuition & Fees
$14,630
$5,390
Books, Materials, Supplies & Equipment Allowance


(May or may not be purchased through the school)

$500
$200
Other Educational Costs
Non-required costs that can be funded with scholarships/loans.
Year of Program


Months Enrolled

Year 1


9

Year 2


3

Living Expense (Food & Housing Allowance)


Students will be assigned one of the following Living Expense Budget Options:

On Campus Dorm
$10,800
$3,600
LLU Owned Rental Property
$17,280
$5,760
$18,180
$6,060
Undergraduate Dependent w/ Parents
$6,480
$2,160
Off Campus
$17,280
$5,760
Transportation Allowance
$3,150
$1,050
Miscellaneous Personal Expenses
$2,700
$900
Federal Student Loan Fees
$78
$26
Cost of Obtaining Professional License
0
0
Dependent Care


(See Budget Revision Request form)

Available upon Request
Disability-Related Expenses


(See Budget Revision Request form)

Available upon Request
Notes
Estimated amounts are for the academic year specified only. Amounts are based on full-time attendance for the number of months enrolled per academic year. International students need to calculate 12 months of living expenses based on these amounts.
Amounts are expected to increase each year consistent with inflation in the professional education sector.
To qualify for financial aid, most students must be enrolled at least half time in an aid eligible program and be taking degree requirements. Half time is 6 units in a quarter for undergraduate programs and 4 units in a quarter for graduate programs.
Request Information