Program Description
Loma Linda University School of Medicine offers an Integrated Biomedical Graduate Studies program (IBGS) leading to a Ph.D. degree in four areas: Anatomy; Cancer, Developmental, and Regenerative Biology; Infection, Immunity, and Inflammation; and Neuroscience, Systems Biology, and Bioengineering.
The first-year core curriculum explores the biochemical, molecular, cellular, and physiological functions of living systems in a way that emphasizes analytical thinking and problem-solving skills. During this first year, students also participate in a weekly journal club, attend seminars, and rotate through research laboratories.
After completing the first two quarters of the year of study, students select a program and a specific laboratory from which they wish to complete their dissertation research. Program-specific courses are taken, starting during the third quarter of the first year. Independent original research leading to the publication of peer-reviewed articles and culminating in the successful defense of a doctoral dissertation is required for the awarding of the program-specific degree.
The PhD curriculum is designed to nurture the personal and professional development of students in the context of a Christian environment, so that they will be prepared to function with integrity and excellence in careers involving independent research and teaching in academic and biotechnology settings.
Program Length
Four to five years
Possible Careers
Biomedical scientists work in a variety of areas, including academia, government and industry.
Application Deadlines
| Quarter | Application Open | Priority Deadline | Final Deadline |
| --- | --- | --- | --- |
| Autumn of 2024 | Aug 1, 2023 | Jan 1, 2024 | May 1, 2024 |
| Autumn of 2025 | Aug 1, 2024 | Jan 1, 2025 | May 1, 2025 |
Admissions Requirements
Guidelines for minimum scores are set by the Faculty of Graduate Studies:
- GPA: 3.0 on a 4.0 scale
- GRE: A total (Verbal plus Quantitative) score of no less than the sum of the scores corresponding to the 50th percentile of each, with neither score less than the 35th percentile; Analytical Writing 4.0
- Bachelor degree from an accredited US college or the equivalent from a foreign university; international applicants must have their transcripts evaluated by an accredited agency for equivalency to a US degree.
- Results of the general test of the Graduate Record Examination (GRE) must be submitted.
Applications are considered as a whole and all parts of the application are important. No one factor will guarantee acceptance or denial. Applications are considered in the context of the applicant pool and the availability of stipend funds in any given year.
Prerequisites
Requirements include a full year of each of the following undergraduate courses:
- General Biology
- General Chemistry
- Organic Chemistry
- General Physics
Strongly Recommended:
- Upper division Biology (such as Cell and Molecular Biology)
- Upper division Chemistry (such as Biochemistry)
Recommended:
- Calculus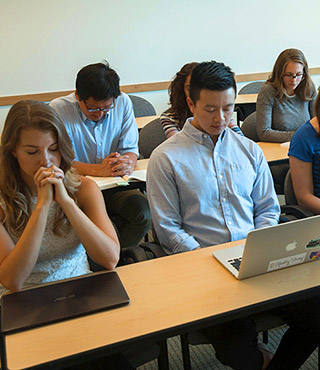 Integrating faith and health
Loma Linda University educates and encourages a balanced life by living our values of humility, compassion, justice, integrity, excellence, freedom and self- control. You will be surrounded by faculty who are committed to healthcare innovation and research while engaging your spirituality.
Expected Cost of Attendance
The following estimated cost of attendance is based on full-time attendance for the number of months enrolled per academic year. Estimated amounts may vary based on a number of factors. Students may use these estimates when applying for financial aid.
Required Program Costs
Academic Year 2017-2018
Year of Program


Months Enrolled

Year 1


9

Year 2


12

Year 3


12

Year 4


12

Tuition & Fees
$14,367
$15,181
$15,181
$15,181
Books, Materials, Supplies & Equipment Allowance


(May or may not be purchased through the school)

0
0
0
0
Other Educational Costs
Non-required costs that can be funded with scholarships/loans.
Year of Program


Months Enrolled

Year 1


9

Year 2


12

Year 3


12

Year 4


12

Living Expense (Food & Housing Allowance)


Students will be assigned one of the following Living Expense Budget Options:

On Campus Dorm
0
0
0
0
LLU Owned Rental Property
0
0
0
0
0
0
0
0
Undergraduate Dependent w/ Parents
0
0
0
0
Off Campus
0
0
0
0
Transportation Allowance
$2,880
$3,840
$3,840
$3,840
Miscellaneous Personal Expenses
$1,350
$1,800
$1,800
$1,800
Federal Student Loan Fees
0
0
0
0
Cost of Obtaining Professional License
0
0
0
0
Dependent Care


(See Budget Revision Request form)

Available upon Request
Disability-Related Expenses


(See Budget Revision Request form)

Available upon Request
Notes
Most PhD students receive tuition waivers, and there are also a limited number of stipends ($20,000/year) available. Stipends are awarded on a competitive basis.
Estimated amounts are for the academic year specified only. Amounts are based on full-time attendance for the number of months enrolled per academic year. International students need to calculate 12 months of living expenses based on these amounts.
Amounts are expected to increase each year consistent with inflation in the professional education sector.
To qualify for financial aid, most students must be enrolled at least half time in an aid eligible program and be taking degree requirements. Half time is 6 units in a quarter for undergraduate programs and 4 units in a quarter for graduate programs.