Special Notification
Please see the bottom of this page for information about the cost of attendance.
Program Description
The underlying philosophy of doctoral training in clinical psychology at LLU is to train students/graduates to be, first of all, psychologists who are well-grounded in the theory and science of psychology, who then become practicing clinical psychologists in a variety of settings. The comprehensive mission of the clinical psychology programs is to provide its students with the cumulative experiences necessary for them to become:
scientifically oriented;
intensively trained and highly skilled psychologists; and
well-prepared as psychologists (academicians, researchers, consultants, supervisors or clinicians) in the discipline of psychology in the twenty-first century, particularly in the health-related fields and within the context of a holistic approach to human health and welfare.
Faculty and students are engaged in both non-funded and funded research. Research activities reflect a broad spectrum of interests. The capstone of clinical training is the one year of pre-doctoral internship, for which students must apply. Following graduation the student must engage in post-doctoral clinical training in order to become eligible for state licensure.
Program Length
5 years (including internship)
Possible Careers
Our psychology programs prepare individuals for careers in settings such as general hospitals, mental health facilities, managed care, and academics.
Application Deadlines
| Quarter | Application Open | Priority Deadline | Final Deadline |
| --- | --- | --- | --- |
| Autumn of 2024 | Apr 27, 2023 | — | Dec 1, 2023 |
Admissions Requirements
Minimum undergraduate GPA of 3.0 or higher
Three (3) letters of recommendation are required (preferably from current or previous professors)
Structured pre-admission interview by invitation may follow once all requirements for admission have been received
Important Items to Note:
Deadline for fall quarter admission is December 1
The Department of Psychology accepts new students only in the fall quarter
Prerequisites
There are no specific courses required for this degree. Please reference the Admissions Requirements.
Discipline Accrediting Agency
The Clinical Psychology PsyD program is accredited by the American Psychological Association (APA).

Questions related to the program's accredited status should be directed to the Commission on Accreditation: Office of Program Consultation and Accreditation, American Psychological Association, 750 1st Street, NE, Washington, DC 20002. Phone 202-336-5979 / Email apaaccred@apa.org / Web www.apa.org/ed/accreditation.

State Accrediting Agency
Loma Linda University is regionally accredited by the WSCUC (Western Association of Schools and Colleges [WASC] Senior College and University Commission).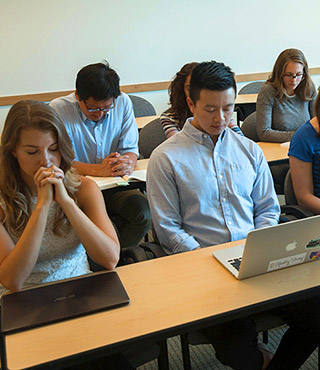 Integrating faith and health
Loma Linda University educates and encourages a balanced life by living our values of humility, compassion, justice, integrity, excellence, freedom and self- control. You will be surrounded by faculty who are committed to healthcare innovation and research while engaging your spirituality.
Expected Cost of Attendance
The following estimated cost of attendance is based on full-time attendance for the number of months enrolled per academic year. Estimated amounts may vary based on a number of factors. Students may use these estimates when applying for financial aid.
Required Program Costs
Academic Year 2023-2024
Year of Program


Months Enrolled

Year 1


9

Year 2


12

Year 3


12

Year 4


12

Year 5


12

Tuition & Fees
$35,022
$41,070
$42,806
$42,806
$14,064
Books, Materials, Supplies & Equipment Allowance


(May or may not be purchased through the school)

$800
$800
$800
$800
$800
Other Educational Costs
Non-required costs that can be funded with scholarships/loans.
Year of Program


Months Enrolled

Year 1


9

Year 2


12

Year 3


12

Year 4


12

Year 5


12

Living Expense (Food & Housing Allowance)


Students will be assigned one of the following Living Expense Budget Options:

On Campus Dorm
$10,800
$14,400
$14,400
$14,400
$14,400
LLU Owned Rental Property
$17,280
$23,040
$23,040
$23,040
$23,040
$18,180
$24,240
$24,240
$24,240
$24,240
Undergraduate Dependent w/ Parents
$6,480
$8,640
$8,640
$8,640
$8,640
Off Campus
$17,280
$23,040
$23,040
$23,040
$23,040
Transportation Allowance
$3,150
$3,840
$4,200
$4,200
$4,200
Miscellaneous Personal Expenses
$2,700
$3,000
$3,600
$3,600
$3,600
Federal Student Loan Fees
$348
$392
$392
$392
$392
Cost of Obtaining Professional License
0
0
0
0
0
Dependent Care


(See Budget Revision Request form)

Available upon Request
Disability-Related Expenses


(See Budget Revision Request form)

Available upon Request
Notes
80% of students in the Psychology department receive financial aid.
Estimated amounts are for the academic year specified only. Amounts are based on full-time attendance for the number of months enrolled per academic year. International students need to calculate 12 months of living expenses based on these amounts.
Amounts are expected to increase each year consistent with inflation in the professional education sector.
To qualify for financial aid, most students must be enrolled at least half time in an aid eligible program and be taking degree requirements. Half time is 6 units in a quarter for undergraduate programs and 4 units in a quarter for graduate programs.