Special Notification
Please see the bottom of this page for information about the cost of attendance.
Program Description
The Master of Science in Child Life Specialist is a 74 quarter credit program, which includes a 100-hour practicum and a 600-hour internship. Students are admitted into the program during the fall quarter.
As one of the few graduate programs in the nation that is endorsed by the Association of Child Life Professionals, students can expect a high level of both preparation and personal interaction as they embark on their career. Since inception, we have kept our commitment to maintaining small class sizes. Loma Linda University shares the same campus as the Loma Linda University Children's Hospital. This enables the program to provide in-class clinical training by utilizing the hospital staff and their facilities as a working lab. All of the core child life courses are taught by certified child life specialists that have ten or more years of experience working in a clinical setting. Additionally, we collaborate with our nursing department to teach within our program.
We pride ourselves on exposing our students to various clinical experiences within the community. Students are able to facilitate and actively participate in our Family Grief Support Group, Teddy Bear Clinic, Annual Child Life Symposium, Family Health Fair, Grief Camps and Teen Retreats. Students also have the opportunity to engage in research within our department. Additionally, students enrolled in the program engage in global community work in areas such as China, Belize, Bolivia, and Honduras, where they provide lectures on psychosocial care of children and their families and facilitate Teddy Bear Clinics.
Based on the program's alumni surveys, results indicate a high success rate of employment in the field and on the child life professional certification exam.
Program Length
2 years
Possible Careers
Child Life Specialists are well-versed in the field of child development. They promote effective coping through play, preparation, education, and self-expression activities. A Child Life Specialist provides emotional support for families, and encourages optimum development of children facing a broad range of challenging experiences, particularly those related to health care and hospitalization. Understanding that a child's well-being depends on the support of the family, Child Life Specialists provide information, support and guidance to parents, siblings and other family members. They also play a vital role in educating caregivers, administrators, and the public about the needs of children under stress. (Taken from the
Association of Child Life Professionals
.)
Child Life is a growing but competitive field. Although Child Life has its traditional foundations in hospitals, an increasing number of Child Life Specialists are applying their unique expertise to help children and families in other environments, including outpatient healthcare facilities, doctor offices, hospice care, specialized camps, schools, court systems, and funeral homes.
Qualified graduates of the School of Behavioral Health are given priority interviewing for behavioral health positions with Loma Linda University Health.
Application Deadlines
| Quarter | Application Open | Priority Deadline | Final Deadline |
| --- | --- | --- | --- |
| Autumn of 2024 | Nov 6, 2023 | Feb 26, 2024 | Mar 25, 2024 |
Admissions Requirements
Bachelor's degree in the Social Sciences or equivalent
Minimum grade point average 3.0 (on 4.0 scale) in bachelor's coursework for at least the final 45 units prior to graduation
GRE is not required
Health clearance
Prior to matriculation students must pass a background check
Official transcripts on file
Three letters of recommendation as specified
Written statement of purpose for applying to the Child Life program
Volunteer experience under the direction of a Certified Child Life Specialist is highly recommended
Interview with department faculty as scheduled (on-campus group interviews are scheduled for mid-January through late March; other on-campus and phone interviews are scheduled individually)
Those for which English is not their first language must present a minimum score of 80 for the computer test and 550 for the pencil test on the Test of English as a Foreign Language (TOEFL)
Prerequisites
Please reference Admissions Requirements.
State Accrediting Agency
Loma Linda University is regionally accredited by the WSCUC (Western Association of Schools and Colleges [WASC] Senior College and University Commission).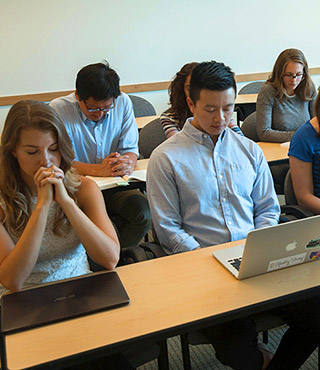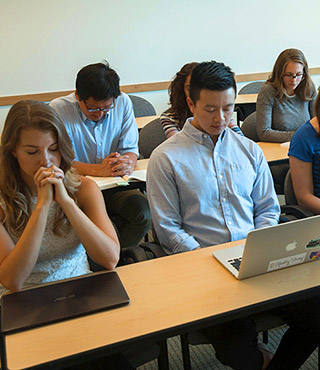 Integrating faith and health
Loma Linda University educates and encourages a balanced life by living our values of humility, compassion, justice, integrity, excellence, freedom and self- control. You will be surrounded by faculty who are committed to healthcare innovation and research while engaging your spirituality.
Expected Cost of Attendance
The following estimated cost of attendance is based on full-time attendance for the number of months enrolled per academic year. Estimated amounts may vary based on a number of factors. Students may use these estimates when applying for financial aid.
Required Program Costs
Academic Year 2023-2024
Year of Program


Months Enrolled

Year 1


9

Year 2


12

Tuition & Fees
$42,480
$30,270
Books, Materials, Supplies & Equipment Allowance


(May or may not be purchased through the school)

$4,500
$1,500
Other Educational Costs
Non-required costs that can be funded with scholarships/loans.
Year of Program


Months Enrolled

Year 1


9

Year 2


12

Living Expense (Food & Housing Allowance)


Students will be assigned one of the following Living Expense Budget Options:

On Campus Dorm
$10,800
$14,400
LLU Owned Rental Property
$17,280
$23,040
$18,180
$24,240
Undergraduate Dependent w/ Parents
$6,480
$8,640
Off Campus
$17,280
$23,040
Transportation Allowance
$3,150
$4,200
Miscellaneous Personal Expenses
$2,700
$3,600
Federal Student Loan Fees
$216
$216
Cost of Obtaining Professional License
0
0
Dependent Care


(See Budget Revision Request form)

Available upon Request
Disability-Related Expenses


(See Budget Revision Request form)

Available upon Request
Notes
Estimated amounts are for the academic year specified only. Amounts are based on full-time attendance for the number of months enrolled per academic year. International students need to calculate 12 months of living expenses based on these amounts.
Amounts are expected to increase each year consistent with inflation in the professional education sector.
To qualify for financial aid, most students must be enrolled at least half time in an aid eligible program and be taking degree requirements. Half time is 6 units in a quarter for undergraduate programs and 4 units in a quarter for graduate programs.