Program Description
The expansion of polysomnography (sleep studies) in the health-care industry has created a marked increase in demand for polysomnography technicians. Many polysomnography clinics are inundated with referrals that may be deferred for months at a time due to inadequate staffing, resulting in delay of sleep disorder diagnoses and appropriate treatments. The certificate in polysomnography is designed for current clinical practitioners and students who are interested in specializing in sleep disorder studies. Both didactic theory and clinical application offered in the program will provide an avenue to gain knowledge, skills, and experience in the expanding discipline of polysomnography. Topics include sleep terminology, sleep structure and disorders, complete patient set-up and monitoring, data acquisition and scoring, and pharmacological and noninvasive interventions. The program is offered on campus and will include: laboratory/clinical rotations, online and classroom discussions, and a case study presentation. Graduates of this program are eligible to sit for the sleep disorder specialist (SDS) examination by the National Board of Respiratory Care (NBRC) and/or the RPSGT examination by the Board of Registered Polysomnography Technologists (BRPT) after completion of the required clinical hours/and requirement for each board examination.

Sleep Technology Approved Resource (STAR)
The Polysomnography Certificate program is designated as a STAR provider under the Board of Polysomnographic Technologists (BRPT). Graduates are eligible to use the Focused Training for the RPSGT exam (Pathway 4) and the CPSGT exam (Pathway 3). Please visit http://www.brpt.org website for more details.

Clinical Rotations
The polysomnography program offers clinical practicum course at affiliated clinical sites. Thus, students will commute to a 12 hours clinical rotation on every assigned clinical day; this might include day and night shifts. Therefore, each student is responsible for their own transportation to each clinical site. The program will assign clinical instructors for each site to assess student learning and competency check-offs.
Program Length
three academic quarters (34 weeks)
Possible Careers
polysomnography, sleep study clinics
Application Deadlines
There are currently no published application deadlines.
Admissions Requirements
Program Requirements:
To be eligible for this program, in addition to the
Loma Linda University
and
School of Allied Health Professions
admission requirements, the following criteria must be met:Current Basic Life Support certification from the American Heart Association.
Current Basic Life Support certification from the American Heart Association.
Minimum of 2.5 G.P.A. of college credit (minimum of 36 Quarter units).
Complete an acceptable interview with Program Faculty.
Three positive personal and/or professional references.
For current students in the Loma Linda University Cardiopulmonary Sciences program, the following must be met:
An agreement and acceptance from both program directors to add the sleep track/units to the current student plan.
Prerequisites
Prerequisite (All prerequisite coursework be completed at a
regionally accredited institution)
Human anatomy and physiology or general biology with laboratory, complete sequence
Introductory chemistry with laboratory; or general chemistry with laboratory (minimum of 1 quarter or semester)
High school-level physics or introductory physics, one quarter/semester in college; or general physics, one quarter/semester in college
Two years of mathematics selected from: algebra I (elementary), algebra II (intermediate), or geometry-Course work may be taken in high school or college
English composition complete sequence.
Co-requisite:
Recommended course work
Speech
Sociology or Anthropology.
Psychology
Microbiology
Basic Life Support
Since this program will have clinical rotations and patient contact, students are required to have a cardiopulmonary resuscitation (CPR)/BLS card certification. This certification has to be current and obtained from an authorized American Heart Association training center. BLS course is offered at Life Support Education, University Arts building, 24887 Taylor Street, Suite 102.
Discipline Accrediting Agency
Loma Linda University is regionally accredited by the Western Association of Schools and Colleges (WASC), 985 Atlantic Avenue, Suite 100, Alameda, CA 94501; telephone: (510) 748-9001.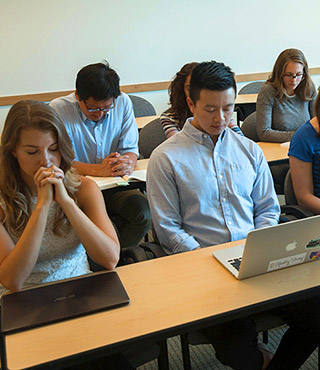 Integrating faith and health
Loma Linda University educates and encourages a balanced life by living our values of humility, compassion, justice, integrity, excellence, freedom and self- control. You will be surrounded by faculty who are committed to healthcare innovation and research while engaging your spirituality.
Notes
The cost of attendance varies from year to year. Please contact the office of Student Finance for up-to-date costs.
Estimated amounts are for the academic year specified only. Amounts are based on full-time attendance for the number of months enrolled per academic year. International students need to calculate 12 months of living expenses based on these amounts.
Amounts are expected to increase each year consistent with inflation in the professional education sector.
To qualify for financial aid, most students must be enrolled at least half time in an aid eligible program and be taking degree requirements. Half time is 6 units in a quarter for undergraduate programs and 4 units in a quarter for graduate programs.