Program Description
PROFESSION
Dietitians help people by scientifically evaluating their diets and suggesting diet modifications to prevent and treat illnesses by promoting healthful eating habits. Members of the dietetics profession practice in a variety of environments, which include hospitals and other healthcare facilities, schools and universities, government and community agencies, business and industry. A growing number of dietitians are employed on physician's offices, clinics, home-health care agencies, mass communication, and other entrepreneurial roles. Popular interest in nutrition has led to opportunities in food manufacturing, advertising, and marketing.
PROGRAM
The Nutrition & Dietetics program is based on the completion of two years of prerequisite course work at any accredited college or university. The professional program includes theory, laboratory, research and clinical experiences. Ten weeks of clinical experience are scheduled at the end of the first year and ten weeks during the spring quarter of the last year. Students participate as active members of the nutrition-care team in multiple clinical settings. Administrative affiliation experiences involve decision-making assignments in volume-feeding operations. Upon completion of the requirements for the Bachelor of Science degree, the graduate is eligible to take the registration examination offered by the Commission on Dietetic Registration and become a registered dietitian.
PROGRAM GOALS
1. Prepare graduates to be competent entry-level dietitians who are eligible to write the Registration Examination for Dietitians. 2. Prepare graduates who are servant leaders in their chosen profession. 3. Provide professionally trained Registered Dietitians with either an emphasis in medical nutrition therapy or public health nutrition who may be employed by the healthcare and educational systems of the Seventh-day Adventist Church, or local, national, or international entities.
PROGRAM OUTCOMES
Pass rate of first-time test takers on the registration examination. Over a five-year period, the pass rate for CP graduates taking the registration examination for the first time will be at least 80%. Students enrolled in the professional courses in the third year of a bachelor-level CP or first year of a graduate level CP that are expected to complete program/degree requirements within 150% of the time planned for completion. Over a five-year period, 70% or more of CP graduates who sought employment in dietetics will be employed within three months of program completion. Program graduates will become servant leaders in their profession roles.
Program Length
4 quarters
Possible Careers
Nutritionist or dietitian in hospitals, clinics, food services, or a personal business
Application Deadlines
There are currently no published application deadlines.
Admissions Requirements
Admission to the program is based upon a selective process. To be eligible for consideration, the applicant must:
A GPA of 3.0 or above
An interview for applicants in southern California - others will be notified if an interview is requested
Complete an online application, including a personal statement demonstrating your interest in Nutrition and Dietetics
Three recommendation letters
Completion of program prerequisites
Prerequisites
Humanities—20 quarter units or 14 semester units (choose from three areas: history, literature, philosophy, foreign language, art/music appreciation, or art/music history)
Four units of religion per year attended at a Seventh-day Adventist college or university
Two years high school mathematics with grades of C or better, or college algebra
Anatomy and physiology with laboratory, complete sequence (3 quarters or 2 semesters)
General chemistry with laboratory (one semester or two quarters)
Microbiology with laboratory
General psychology
Introduction to sociology
English composition, complete sequence
Speech
Two physical activity courses
Human nutrition
NOTE: A minimum grade of C (2.0) is required for all courses. Electives to meet the total minimum requirements of 96 quarter units.
Discipline Accrediting Agency
These programs are currently granted continuing accreditation by the Commission on Accreditation for Dietetics Education of the American Dietetic Association. 120 South Riverside Plaza, Suite 2000, Chicago IL 60606-6995, (312) 899-0040, ext 5400. Website: www.eatright.com/CADE, Fax: (312) 899-4817, Email: cade@eatright.org.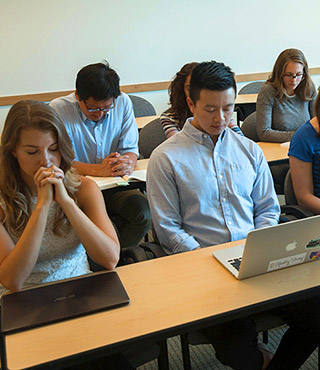 Integrating faith and health
Loma Linda University educates and encourages a balanced life by living our values of humility, compassion, justice, integrity, excellence, freedom and self- control. You will be surrounded by faculty who are committed to healthcare innovation and research while engaging your spirituality.
Expected Cost of Attendance
The following estimated cost of attendance is based on full-time attendance for the number of months enrolled per academic year. Estimated amounts may vary based on a number of factors. Students may use these estimates when applying for financial aid.
Required Program Costs
Academic Year 2023-2024
Year of Program


Months Enrolled

Year 1


12

Tuition & Fees
$45,230
Books, Materials, Supplies & Equipment Allowance


(May or may not be purchased through the school)

$2,150
Other Educational Costs
Non-required costs that can be funded with scholarships/loans.
Year of Program


Months Enrolled

Year 1


12

Living Expense (Food & Housing Allowance)


Students will be assigned one of the following Living Expense Budget Options:

On Campus Dorm
$14,400
LLU Owned Rental Property
$23,040
$24,240
Undergraduate Dependent w/ Parents
$8,640
Off Campus
$23,040
Transportation Allowance
$4,200
Miscellaneous Personal Expenses
$3,600
Federal Student Loan Fees
$217
Cost of Obtaining Professional License
0
Dependent Care


(See Budget Revision Request form)

Available upon Request
Disability-Related Expenses


(See Budget Revision Request form)

Available upon Request
Notes
Estimated amounts are for the academic year specified only. Amounts are based on full-time attendance for the number of months enrolled per academic year. International students need to calculate 12 months of living expenses based on these amounts.
Amounts are expected to increase each year consistent with inflation in the professional education sector.
To qualify for financial aid, most students must be enrolled at least half time in an aid eligible program and be taking degree requirements. Half time is 6 units in a quarter for undergraduate programs and 4 units in a quarter for graduate programs.