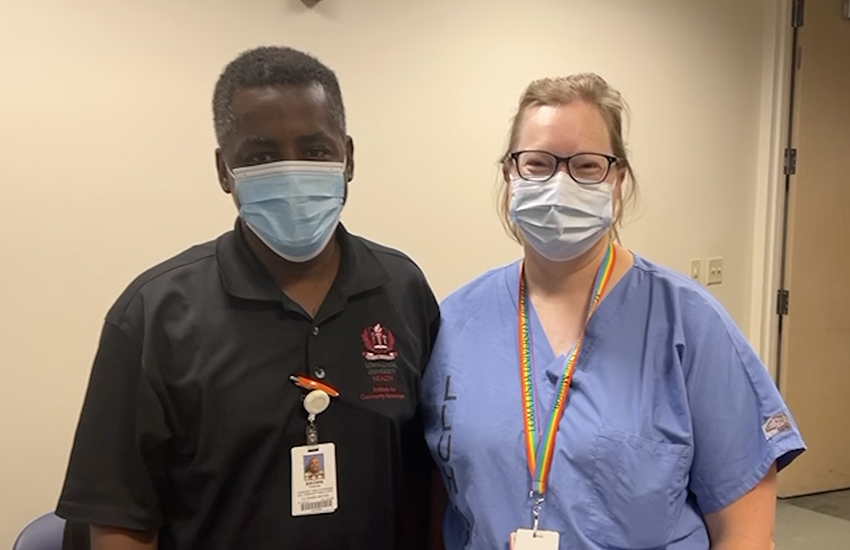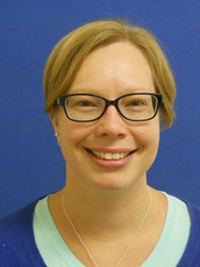 Dr. Sigrid Burruss is a talented trauma surgeon and a champion for community. Over the last seven years at Loma Linda University, Dr. Burruss has started the Violence Intervention Program at LLUH, mentored young students passionate about healthcare careers, initiated a tattoo removal program to help community members get back to work and past stigma, and contributed to the Youth Alternative Solutions Program. Although all of this could not be done without Dr. Burruss, she credits most of the projects and programs to the many community organizations she regularly collaborates with as well as a engaged and supportive trauma team including Andre Ike (Trauma Prevention Coordinator), Tonya Henkes (Trauma Manager), Kelly Davis (Assistant Trauma Manager), Connie Cunningham (Director of Trauma Services), Kaushik Mukherjee (Chief of Acute Care Surgery) Sharon Lum (Chair of Dept of Surgery), and Juan Carlos Belliard (Director of ICP).
For Dr. Burruss, trauma surgery originally excited her as it is unpredictable and constantly evolving, but also because the emergency department is a place where everyone can get care no matter their circumstance. Working at Loma Linda University Health she became particularly interested in violence prevention as she often saw patients coming in with injuries due to preventable violence. Dr. Burruss recalled the pattern of patients coming in after an injury, getting the care they need in the hospital, getting discharged, and then seeing them again with the same types of injuries. She expressed, "What we have seen time and again, is that they still come back, and they have a high incidence of recidivism. Part of that is because the environment, the social circumstances that contributed to the injury that still exist." She knew something had to be done to address the underlying factors that contribute to violent injuries to see a change. This led her to sign up for a class with the Health Alliance for Violence Intervention (HAVI).
Upon completion of her HAVI course and connecting with existing community violence prevention program, in January 2020 Dr. Burruss, along with a team of trauma physicians, launched the Violence Intervention Program (VIP) at the Loma Linda University Health Medical Center. The program was implemented at an ideal time as the incidence of violent injures doubled during the height of the COVID-19 pandemic. She shared that the goal of the program "really stems out of the need to address more than just the physical injuries that our trauma patients sustain". For patients that agree to participate, the Violence Intervention Program aims to make meaningful connections with participants and equip them with the skills and support necessary to make positive lifestyle changes. Dr. Burruss works closely with ICP's very own Charles Brown, a Community Health Worker (CHW) tied to the program who connects with patients referred to the program. The program leverages partnerships with local organizations also invested in violence prevention programs including the City of San Bernardino, Young Visionaries, Hope Culture, and Inland Congregations United for Change. The team of organizations and stakeholders meet monthly to discuss what is happening in the community and to collaborate on ideas and approaches to address violence in the community. Coordinating efforts and sharing resources between organizations with a common goal has been a notable strength of the program.
Along with the Violence Intervention Program, Dr. Burruss' other passion project has been the free tattoo removal program that started in January 2022.  This year with the help of ICP, Dr. Burruss was able to launch the program that provides free laser removal of gang-related tattoos. The hope is that removing gang related tattoos will give patients more opportunities for jobs and reduce the incidence of violent injuries by removing tattoos that may make them a target. When asked about what this program means to patients, Dr. Burruss shared that removing these gang related tattoos allows for better job opportunities but also removes that marker of their past because it's no longer a representation of who they are and who they want to be.
Dr. Burruss' long term vision is to eliminate violent injury. Through her programs she hopes "to be able to connect with the violently injured population, as they're patients with us, and to be able to work with them and support them in all of their needs, including after discharge, so that they really can have their needs addressed". This program is more than outreach; it works to connect and follow through with patients. When asked what her vision is for the program Dr. Burruss shared, "the big goal is to be able to look at the community and say, this is somewhere that we'd all be happy to live, because it's a safe, healthy, happy neighborhood". The program has received overwhelmingly positive feedback from participants and families as it has brought feelings of hope to the community.
We are extremely grateful to have Dr. Burruss at LLUH and her passion for serving her local community. ICP looks forward to the many accomplishments to come for Dr. Burruss and her community programs. To read more about Dr. Burruss' work visit: