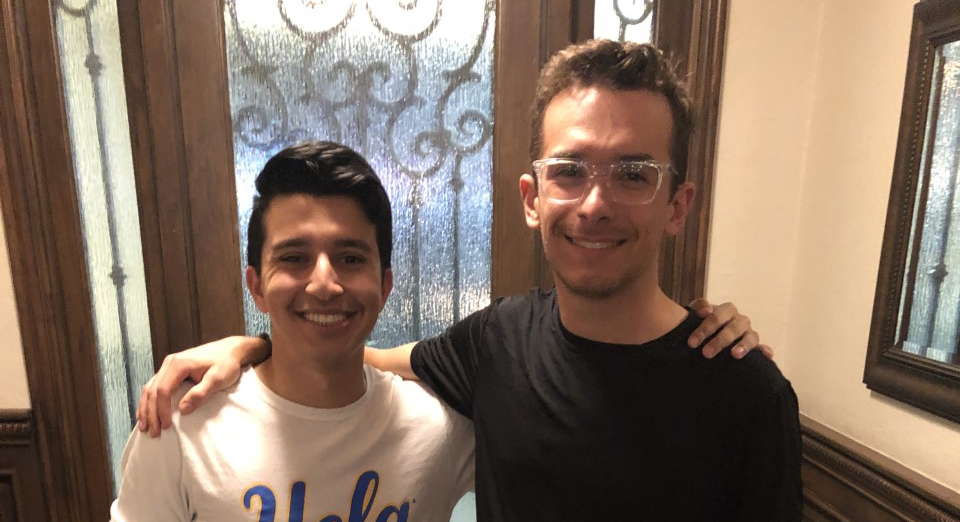 The Transition 2 Success scholars program originated thanks to Loma Linda University's School of Medicine and generous alumni who wanted to support efforts to diversify medicine. A pilot of six high school students preparing to transition to college and six college students preparing to transition to the health professions were selected to participate. The Transition 2 Success scholars program aims to support health career Pipeline students during the most challenging times of their academic journey. This is done in a variety of ways, including pairing each student with a mentor. Nicolas (Nico) Belliard, a second-year medical student at Loma Linda University, was paired with Zubair Ahmed, a recent graduate from UCLA who plans to apply to medical school with the hopes of pursuing pediatric neurology. 
Zubair was part of the Gateway program in 2017, which was his first introduction to Loma Linda University. He credits the Gateway program to opening his eyes to the many different specialties through shadowing programs, speakers, and more. Since the Gateway program, Zubair talked about how LLU continues to have an incredible impact on his life. "It's just been incredible how much of an impact Loma Linda has had on me and guided me throughout this journey…I feel like the community at Loma Linda has really helped me…make sure I have the proper support around me to achieve my goals." Nico is part of this community and is instrumental in helping Zubair reach his goals. 
Nico and Zubair share an interest in medicine and are both on journeys toward becoming doctors. They also share a passion for Mediterranean food! Nico expressed his respect and admiration for Zubair. "I'm honestly more inspired by [Zubair] than he is inspired by me. He's doing awesome things so I always enjoy it when we talk." 
Zubair also enjoys their open and honest conversations. "It's a great pairing honestly and I'm very grateful to have Nico along with me as I proceed through this journey into medical school. We've talked so much about not only the process but also the mental things that you have to go through when you are applying to medical school… I always try to talk to him about everything - any questions that I have about the process, and even about life in general. He's always been a great mentor to me."
They both agreed upon the importance of having mentors and mentees throughout life. "Nico has been really helpful. He has offered to help me with a lot of different kinds of things - looking over my personal statement which I am very grateful for and in the process of writing, showing me the fine details of the application…This is my dream and a huge part of what I'm trying to accomplish and having someone who has been through it himself and succeeded in that role and [helping] me throughout the processes is very helpful." Nico added, "I think it's hard sometimes to reach out for help so wherever you are in life I think it's always good to have some mentor/mentee relationship."
Their relationship is symbiotic in that they both inspire each other to do their best. When asked how being a mentor has influenced him, Nico said, "knowing that someone other than my family is watching…has inspired me to do well." He also added, "I think it's helped me see life beyond school because it's easy to get consumed by the study machine."
Nico and Zubair plan to remain in touch and may even overlap at the Loma Linda University Medical School! "We would see each other a lot more often, on campus or even outside of campus, so that's one way of how I see [our relationship] playing out, because [Nico] is not only a mentor to me, but he's also one of my friends." We wish Nico and Zubair all the best in their future endeavors and are so inspired by them. 
Transition 2 Success has been so successful that there are plans to expand the mentoring program to more students in 2022. Out of the six college students who participated in the program, two have been accepted to Loma Linda University and two are currently applying. We are so proud of our Pipeline students and mentors for how much they have achieved and are excited to see what is next!