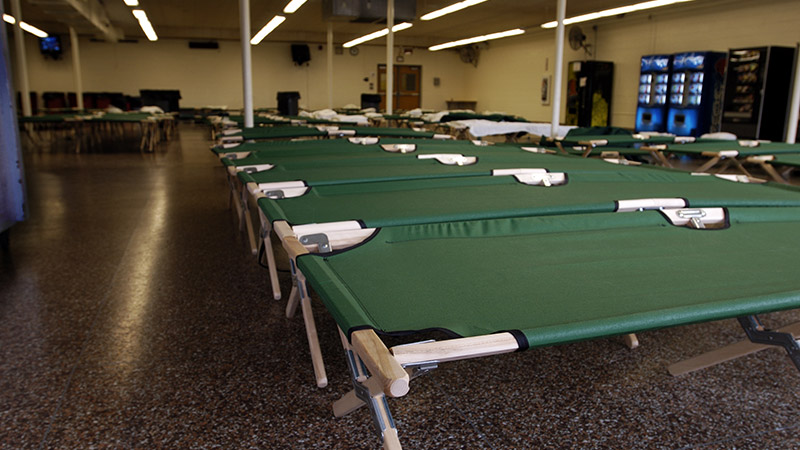 Emergency Shelter
We live in a beautiful, but hazard prone area of Southern California: earthquakes, wildfires, flash-floods, and even winter storms in our local mountains are both common and expected events. Each of these disasters, and others such as an infectious disease pandemic, could result in the need for implementing the need for emergency shelter.
Emergency shelter is about securing you and your family during times of emergency or disaster. Every day, our houses, offices, and even cars provide us with shelter from the elements and security from potential threats. When disasters compromise the ability of these structures to provide shelter and security, we need to look toward alternatives. The options can range from a simple tarp and parachute cord shelter under a tree to a $300,000+ Class A motor-home.
In some disasters, we will be able to establish our emergency shelter at home, but in some cases, conditions may require us to evacuate in order to preserve life. What you do to establish emergency shelter will depend on whether you are able to remain at your home, or if you are sheltering following an evacuation.
Types of Protection
Emergency shelter may be required for several reasons, but should address both environmental exposure and personal security:
Environment
Protection from sun
Protection from heat/cold
Protection from wind
Protection from water
Protection from insects/vectors
Security
Safety from disaster hazards
Safety from animals
Safety from crime/violence
Different types of emergency shelters should be evaluated for how they will provide protection against environmental and security hazards. While the level of protection will vary widely on how each shelter is implemented, the following table illustrates the level of protection afforded by some examples of shelter types:
| | | | | | | |
| --- | --- | --- | --- | --- | --- | --- |
|   | Sun | Heat/ Cold | Wind | Water | Animals | Crime/ Violence |
| Basic |   |   |   |   |   |   |
| ➢Tarp and Cord | ★★ | ★ | ★ | ★★ | ★ | ★ |
| ➢EZ-Up | ★★ | ★ | ★ | ★★ | ★ | ★ |
| Moderate |   |   |   |   |   |   |
| ➢Tent | ★★★ | ★★ | ★★★ | ★★★ | ★★ | ★★ |
| ➢Storage Shed | ★★★★ | ★★ | ★★★ | ★★★ | ★★★ | ★★★ |
| Elaborate |   |   |   |   |   |   |
| ➢Travel Trailer | ★★★★ | ★★★★ | ★★★★ | ★★★★ | ★★★★ | ★★★★ |
| ➢Motorhome | ★★★★ | ★★★★ | ★★★★ | ★★★★ | ★★★★ | ★★★★ |
The level of protection from environmental and security hazards generally increases with complexity and cost, but elaborate shelters such as travel trailers or motor-homes may be difficult to move or relocate if roads are impassable.
An additional consideration for shelters where you would be living on the ground is insulation: beyond providing comfort, foam pads or cots will isolate you from the ground, which tends to pull away a large amount of body heat through conduction. Inflatable beds can also be useful for comfort and isolation from the ground, if you have a way of inflating them.
Remember to include extra clothing, such as sweaters and jackets for colder weather, as the loss of electricity and/or natural gas will make it difficult to maintain normal climate controlled conditions in conditions requiring shelter.
Vehicles with air conditioning can provide emergency cooling during the hottest hours of the day, if necessary. However, never operate a vehicle in an enclosed environment such as a garage with the door shut. An average passenger vehicle running the air conditioner will consume between ¼ to ½ gallon of gas per hour, so use of a vehicle for emergency cooling must consider available fuel and the need to use the vehicle for mobility.
Emergency Sheltering At Home
Sheltering at home after a disaster is often preferred because it places us within close proximity to our disaster supplies. We can also keep an eye on our property, and monitor for further damage, leaks, or other issues that might arise. Temporary repairs may be required for houses with light damage, such as windows broken in an earthquake or roof tiles blown off in a storm. Emergency supplies such as a roll of plastic sheeting (select heavy duty plastic, such as 4 mil thickness), duct tape, wood, nails and/or screws are useful for preventing wind, water, and insects from entering damaged areas of the house. Remember houses that have suffered structural damage, such as the collapse of a wall or roof, are extremely unsafe to enter and must be abandoned.
The use of generators at home after a disaster is very common, as power may take days if not weeks to months to restore. Safely using a generator requires that it be placed in an outdoor location where the exhaust will not collect or cause carbon monoxide poisoning. Small generators may be used to power a refrigerator or freezer, preserving that food as part of the disaster supply. Larger generators that are connected to the home's electrical system must use a service disconnect to prevent energizing the electrical lines in the community. Failure to isolate the generator from the power grid places repair workers at grave danger of electrocution.
Emergency Sheltering in an Evacuation
In some disasters such as wildfires, a mandatory evacuation may require that all residents immediately leave the community. Sheltering in disasters that are isolated to a small area provide numerous options for shelter, including staying with family or friends, local motels, or emergency Red Cross Shelters.
Catastrophic disasters that affect an entire region create additional challenges, particularly when your home is no longer a viable place to shelter. The widespread impact will limit your options for seeking shelter, and may require that you consider improvised shelters.
Tents provide a versatile shelter that can be used in your backyard if your house is uninhabitable; they are also usually portable and could go with you during an evacuation. Large camping style tents can provide space for the whole family and some personal belongings, and those tall enough to stand in will provide a usable shelter both day and night. Freestanding tents can be set up on hard surfaces, such as a parking lot, where it would be difficult to put in stakes. However, always stake or secure a tent if weather conditions are windy.
EZ-ups provide a lot of usable space, are easy to set up (with multiple people), and will provide basic protection from the sun and rain. However, they won't provide much protection from the wind and heat/cold, even if you purchase an EZ-up with sides.
Even lighter and cheaper than a tent is the tarp and parachute cord combination. Parachute cord (commonly referred to as "paracord") is a multi-filament nylon product covered with a protective sheath. Originally used for the suspension lines in a parachute, it comes in different strength ratings. A common designation of "550 cord" refers to one of the stronger versions of paracord that is rated for a 550 pound minimum breaking strength. A large polyethylene tarp can be used for multiple purposes after a disaster, from covering equipment and supplies during a rainstorm to carrying victims in an improvised stretcher. The combination of a tarp and paracord can create a myriad of shelters. A basic A-frame shelter is easy to create by securing a tarp over paracord tied between two poles or trees. Tarps and paracord are inexpensive and is safe to leave in a vehicle indefinitely. This combination is also very light and easy to pack up and take with you if it is necessary to hike a long distance. Even if you have a tent or other shelter, a tarp can be used as ground cover or to cover equipment or gear that does not fit into your shelter. Purchase tarps in various sizes at hardware stores like Home Depot, Lowes, or Tractor Supply Co. Paracord is available at outdoor stores, like Big 5 or through online vendors such as Amazon.
Resources
Loma Linda University Health does not endorse any specific website or vendor. However, the following websites are provided for additional information and as examples of equipment for emergency shelters:
Consumer Review of Large Camping Tents: http://allcampingstuff.com/the-best-large-camping-tents-on-the-market/
Instructions on how to make different tarp tents: https://rollingfox.com/how-to-make-a-tarp-tent-with-designs
Background on Paracord: https://en.wikipedia.org/wiki/Parachute_cord