Program Description
Understanding the environment has become highly dependent on advanced technology, therefore graduates will learn to use marketable geospatial applications such as Geographic Information Systems (GIS), Remote Sensing (RS), Computer Systems Modeling (CSM), and Global Positioning Systems (GPS) and learn how to apply them to study environmental problems.
Program Length
2 Years
Possible Careers
Career options in the field of environmental sciences are diverse and abundant. The Environmental Sciences Program prepares students for entry-level jobs in environmental sciences or GIS fields. Graduates may pursue jobs in the public sector through local, state, and federal agencies such as U.S. Fish and Wildlife Service, U.S. Geological Survey, and Department of Fish and Game. In the private sector, graduates may seek jobs in environmental consulting firms, foundations, and organizations. Some examples of career paths that environmental science graduates pursue include environmental engineering, science and social policy, and a wide variety of natural resources management fields such as soil science, forestry, agriculture, watershed science, range management, wildlife conservation, recreation resources, land management, and ecology; landscape architecture, conservation science, geographic information science (GIS), climatology, diverse health sciences; as well as public policy, law, or planning careers.
Application Deadlines
| Quarter | Application Open | Priority Deadline | Final Deadline |
| --- | --- | --- | --- |
| Autumn of 2024 | Aug 1, 2023 | Jan 1, 2024 | May 1, 2024 |
| Autumn of 2025 | Aug 1, 2024 | Jan 1, 2025 | May 1, 2025 |
Admissions Requirements
A student in the Environmental Sciences Program will take the first two years of general education and science courses at any regionally accredited community college or university, and the last two years of the curriculum at this University (LLU). There are two options for entering the program:
A: Students may elect to complete all the prerequisite course work (95-99 quarter units) in an accredited college setting of their choice, and finish their junior and senior years at LLU.
B: Or, students desiring to obtain early entrance to the program may do so if they complete a minimum of 75 quarter units (50 semester units) at a community college of their choice and then begin course work at this University (LLU) while concurrently taking course work at a nearby community college in order to complete their outstanding prerequisite requirements.
Admission requirements for the program are a 2.5 G.P.A. during the first two years of course work and letters of recommendation from two faculty members at institutions previously attended.
Prerequisites
Please reference the Admissions Requirements.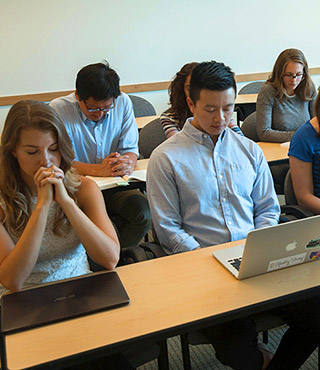 Integrating faith and health
Loma Linda University educates and encourages a balanced life by living our values of humility, compassion, justice, integrity, excellence, freedom and self- control. You will be surrounded by faculty who are committed to healthcare innovation and research while engaging your spirituality.
Expected Cost of Attendance
The following estimated cost of attendance is based on full-time attendance for the number of months enrolled per academic year. Estimated amounts may vary based on a number of factors. Students may use these estimates when applying for financial aid.
Required Program Costs
Academic Year 2017-2018
Year of Program


Months Enrolled

Year 1


12

Tuition & Fees
$24,112
Books, Materials, Supplies & Equipment Allowance


(May or may not be purchased through the school)

$1,750
Other Educational Costs
Non-required costs that can be funded with scholarships/loans.
Year of Program


Months Enrolled

Year 1


12

Living Expense (Food & Housing Allowance)


Students will be assigned one of the following Living Expense Budget Options:

On Campus Dorm
0
LLU Owned Rental Property
0
0
Undergraduate Dependent w/ Parents
0
Off Campus
0
Transportation Allowance
$3,780
Miscellaneous Personal Expenses
$1,740
Federal Student Loan Fees
0
Cost of Obtaining Professional License
0
Dependent Care


(See Budget Revision Request form)

Available upon Request
Disability-Related Expenses


(See Budget Revision Request form)

Available upon Request
Notes
Many students in this program receive financial aid.
Estimated amounts are for the academic year specified only. Amounts are based on full-time attendance for the number of months enrolled per academic year. International students need to calculate 12 months of living expenses based on these amounts.
Amounts are expected to increase each year consistent with inflation in the professional education sector.
To qualify for financial aid, most students must be enrolled at least half time in an aid eligible program and be taking degree requirements. Half time is 6 units in a quarter for undergraduate programs and 4 units in a quarter for graduate programs.