Program Description
The Advanced Dental Education Program in Oral and Maxillofacial Surgery is designed to prepare the resident for practice of the specialty and to provide the foundation for the continued acquisition of knowledge and skills. Clinical surgical health care delivery is emphasized. The resident is introduced to research methodology and teaching to develop an increased awareness of their importance in assessing clinical procedures and patient management. The content of the program conforms to the Standards of the Commission on Dental Accreditation and is designed to prepare the surgeon for certification by the American Board of Oral and Maxillofacial Surgery.
Six-year residency programs are available. Residents in the six-year program will complete medical school as well as a one year internship comprised of general surgery and other GME accredited rotations.

Program Length
Six years
Possible Careers
Oral surgeon in a hospital or in private practice.
Application Deadlines
There are currently no published application deadlines.
Admissions Requirements
Although not required at the time of application, candidates are required to have an active, valid, unrestricted California Dental License prior to beginning residency. Candidates must also have an active DEA number at the time they begin residency.
1.The applicant must have a DDS or equivalent prior to entering the program.
2.Official transcripts mailed directly from each post-secondary institution from which you have received credit, including colleges and dental school.
3.A minimum cumulative dental school GPA of 3.0 or higher.
4.Successful completion of the National Board Dental Examination Part I and Part II (when available). Official score report must be mailed from the ADA to Loma Linda University. Part I score must equal or exceed 86 if taken after January 1, 2007. Part I score prior to 2007 must equal or exceed 90.
5.Three letters of recommendation from individuals who have known and worked closely with you.
6.Applicants must complete an additional application through the Postdoctoral Application Support System (PASS) and be registered with the Postdoctoral Dental Matching Program (Match).

Applicants who have transcripts from non-US dental schools must submit a translated course-by-course transcript report from one of the following agencies (See International Transcript Information):
Official Degree Certificate (for all international applicants) - Any foreign transcript (or mark sheet) that does not list on it the graduation information, including the actual degree earned, must be supported by an official degree certificate or school-verified copy of the degree certificate mailed directly from the issuing institution to Admissions Processing, Loma Linda University.
Dental License (for all international applicants) - All applicants who have received their dental school training outside of the United States or Canada must have a current dental license from their country and submit a notarized copy with their application.
In addition, an English Proficiency test score is required for all International applicants as well:
English Proficiency Exam - Regardless of nationality or citizenship, an applicant whose native language is not English or whose secondary education has been given outside the U.S. is required to pass one of the following English proficiency tests:
TOEFL scores are valid for two years from the test date. The institution code for Loma Linda University is 4062. TOEFL minimum scores are: 80- Internet-based test, 550 - Paper-based test, including a minimum final score of 5.0 on the TWE part (Test of Written English)
IELTS scores are valid for two years from the test date. LLU minimum score is 6.5
MELAB LLU minimum score is 77
National Board Medical Examination (NBME)
- Applicants must take the National Board Medical Examination (NBME) Comprehensive Basic Science Exam and have their official test results reported to Loma Linda University by the application deadline.

If the test has been taken more than once, all scores must be submitted.

Please visit the NBME website for further information:

http://www.nbme.org/students/Subject-Exams/subexams.html

.
Prerequisites
There are no specific courses required for this degree. Please reference the Admissions Requirements.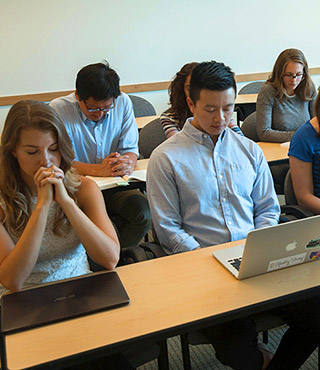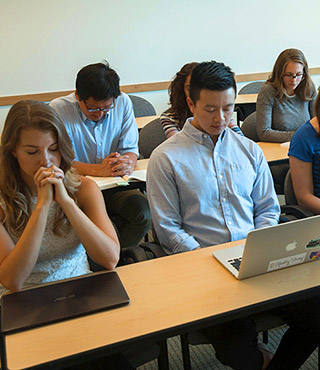 Integrating faith and health
Loma Linda University educates and encourages a balanced life by living our values of humility, compassion, justice, integrity, excellence, freedom and self- control. You will be surrounded by faculty who are committed to healthcare innovation and research while engaging your spirituality.
Expected Cost of Attendance
The following estimated cost of attendance is based on full-time attendance for the number of months enrolled per academic year. Estimated amounts may vary based on a number of factors. Students may use these estimates when applying for financial aid.
Required Program Costs
Academic Year 2023-2024
Year of Program


Months Enrolled

Year 5


12

Year 6


12

Tuition & Fees
$5,380
$5,380
Books, Materials, Supplies & Equipment Allowance


(May or may not be purchased through the school)

0
0
Other Educational Costs
Non-required costs that can be funded with scholarships/loans.
Year of Program


Months Enrolled

Year 5


12

Year 6


12

Living Expense (Food & Housing Allowance)


Students will be assigned one of the following Living Expense Budget Options:

On Campus Dorm
$14,400
$14,400
LLU Owned Rental Property
$23,040
$23,040
$24,240
$24,240
Undergraduate Dependent w/ Parents
$8,640
$8,640
Off Campus
$23,040
$23,040
Transportation Allowance
$4,200
$4,200
Miscellaneous Personal Expenses
$3,600
$3,600
Federal Student Loan Fees
0
0
Cost of Obtaining Professional License
0
0
Dependent Care


(See Budget Revision Request form)

Available upon Request
Disability-Related Expenses


(See Budget Revision Request form)

Available upon Request
Notes
Individuals admitted to the 6-year program must pay School of Medicine tuition and fees for the three years of medical school enrollment. No tuition or fees are charged for the final three years, instead, a progressive stipend is offered.
Estimated amounts are for the academic year specified only. Amounts are based on full-time attendance for the number of months enrolled per academic year. International students need to calculate 12 months of living expenses based on these amounts.
Amounts are expected to increase each year consistent with inflation in the professional education sector.
To qualify for financial aid, most students must be enrolled at least half time in an aid eligible program and be taking degree requirements. Half time is 6 units in a quarter for undergraduate programs and 4 units in a quarter for graduate programs.