Program Description
PROFESSION

Nuclear medicine uses radioactivity to diagnose and treat disease. This medical specialty provides information about both the structure and the function of virtually every major organ system within the body. Nuclear medicine procedures are safe, involve little or no patient discomfort, and do not require the use of anesthesia. The nuclear medicine technologist is responsible for preparing and administering radiopharmaceuticals; performing patient-imaging procedures; accomplishing computer processing and image enhancement; analyzing biologic specimens; and providing images, data analysis, and patient information for diagnostic interpretation by the physician health care team member.
Program Length
8 quarters (2 years)
Possible Careers
Nuclear Medicine Technologist, Hospital Administration, Radiation Safety Officer (RSO), and Research
Application Deadlines
October 2 to August 15 (priority deadline April 16)
Admissions Requirements
Program Requirements
Applicants are required to complete a background check and possess a current Health Care Provider CPR card offered by the American Heart Association upon admission into the program, adhere to the Program's professional code of conduct. Students at some clinical sites may need a drug test. Complete an approved EKG course prior to starting clinical rotations.
Admission Requirements
Admission to this program is dependent on the student fulfilling certain educational requirements, completing career observation experience, and submitting transcripts and letters of recommendation.
Prerequisite courses met
Transcripts
Letters of recommendation
GPA of 3.0 or better
8 hours of observation in Nuclear Medicine is required prior to the interview
Interview
Prerequisites
HUMANITIES (16 quarter/11 semester units min.)
Choose a minimum of three areas from: history, literature, philosophy, foreign language, art/music appreciation/history
Eight units of religion are included in the BSNM program
NATURAL SCIENCES (12 quarter/8 semester units min.)
Chemistry (Intro or General) with lab (one class). Chemistry for non-science majors is not accepted
Intro or General Physics with lab (one course)
Human Anatomy & Physiology with lab (complete sequence [2 courses])
College Algebra (Statistics not accepted)
Medical Terminology
SOCIAL SCIENCES (12 quarter/8 semester units min.)
General Psychology (4 quarter-units/3 semester-units) required
Choose remaining units from the following areas: sociology anthropology, economics, and geography
COMMUNICATION (9 quarter/6 semester units min.)
Freshman Composition, complete sequence (required)
Oral Communication
HEALTH AND WELLNESS (2 quarter/1.5 semester units min.)
Physical Education (2 activities)
Health or Nutrition
ELECTIVES (to meet minimum total of 96 quarter-units/ 64 semester-units)
PLEASE NOTE: "C minus" grades are not transferable for credit
Observation Experience
A minimum of 8 hours of career observation (volunteer/employee) in a Nuclear Medicine Department is required. The observation form is located online (www.llu.edu) under School of Allied Health Professions, under "forms". Print it out and take it with you to the facility you will be observing.
Discipline Accrediting Agency
Loma Linda University is accredited by the Western Association of Schools and Colleges, Accrediting Commission for Senior Colleges and Universities, and the Radiologic Health Branch of the Department of Health Services.
The nuclear medicine technology program at Loma Linda University is accredited by the Joint Review Committee on Educational Programs in Nuclear Medicine Technology (JRCNMT), 820 W. Danforth Rd, #B1 / Edmond, OK 73003; phone 405-285-0546; mail@jrcnmt.org; www.jrcnmt.org.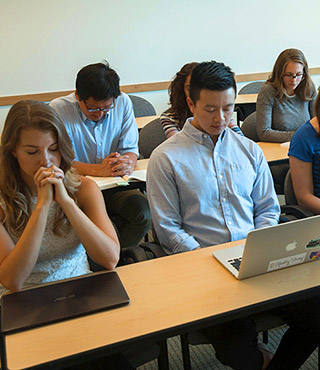 Integrating faith and health
Loma Linda University educates and encourages a balanced life by living our values of humility, compassion, justice, integrity, excellence, freedom and self- control. You will be surrounded by faculty who are committed to healthcare innovation and research while engaging your spirituality.
Expected Cost of Attendance
The following estimated cost of attendance is based on full-time attendance for the number of months enrolled per academic year. Estimated amounts may vary based on a number of factors. Students may use these estimates when applying for financial aid.
Required Program Costs
Academic Year 2023-2024
Year of Program


Months Enrolled

Year 1


9

Year 2


12

Year 3


3

Tuition & Fees
$32,790
$42,595
$9,805
Books, Materials, Supplies & Equipment Allowance


(May or may not be purchased through the school)

$3,390
$2,752
$689
Other Educational Costs
Non-required costs that can be funded with scholarships/loans.
Year of Program


Months Enrolled

Year 1


9

Year 2


12

Year 3


3

Living Expense (Food & Housing Allowance)


Students will be assigned one of the following Living Expense Budget Options:

On Campus Dorm
$10,800
$14,400
$3,600
LLU Owned Rental Property
$17,280
$23,040
$5,760
$18,180
$24,240
$6,060
Undergraduate Dependent w/ Parents
$6,480
$8,640
$2,160
Off Campus
$17,280
$23,040
$5,760
Transportation Allowance
$3,150
$4,200
$1,050
Miscellaneous Personal Expenses
$2,700
$3,600
$900
Federal Student Loan Fees
$79
$79
$29
Cost of Obtaining Professional License
0
0
0
Dependent Care


(See Budget Revision Request form)

Available upon Request
Disability-Related Expenses


(See Budget Revision Request form)

Available upon Request
Notes
The cost of attendance varies from year to year. Please contact the office of Student Finance for up-to-date costs.
Estimated amounts are for the academic year specified only. Amounts are based on full-time attendance for the number of months enrolled per academic year. International students need to calculate 12 months of living expenses based on these amounts.
Amounts are expected to increase each year consistent with inflation in the professional education sector.
To qualify for financial aid, most students must be enrolled at least half time in an aid eligible program and be taking degree requirements. Half time is 6 units in a quarter for undergraduate programs and 4 units in a quarter for graduate programs.