Program Description
The Healthcare Administration Bachelor of Science (BSHA) program prepares students to serve in entry-level and mid-level healthcare administration positions. The BSHA program is taught online, allowing students to complete coursework on their own schedules. This format is great for students wanting to balance employment, family life, and higher education. Likewise, students employed in the healthcare industry may more easily earn a degree and pursue career advancement, because they may be able to apply previously-completed clinical units towards degree requirements.
Healthcare administration is a broad-based discipline that serves individuals, communities, and entire populations in a variety of healthcare environments. Healthcare administration is an excellent career choice for the person who would like to have a profession in healthcare in one or more of the following areas: healthcare policy and strategy, marketing, communication, business continuity and sustainability, law and ethics, business and project management, human resources, health information systems, and organizational behavior. Healthcare professionals have the opportunity to plan marketing and communication initiatives, develop institutional strategies, policies and procedures, manage staff and resources, and develop sustainability and continuity plans, among other responsibilities.
Program Length
Students may enroll full-time, and complete the program in 6 quarters (2 years), or part-time, and complete the program in 9 or 12 quarters (3 or 4 years).
Possible Careers
Administrative positions in various healthcare settings. Examples of positions include:
Clinical Support Services Manager; Healthcare Initiative Project Manager; Healthcare Human Resources Manager; Social & Community Services Coordinator; Medical or Dental Office Manager; Long-term Care Coordinator; Marketing Program Coordinator; Manager of Business Operations; Coordinator, Healthcare Administration; Nursing Home Administrator
Application Deadlines
| Quarter | Application Open | Priority Deadline | Final Deadline |
| --- | --- | --- | --- |
| Autumn of 2024 | Nov 1, 2023 | — | Aug 1, 2024 |
Admissions Requirements
Minimum of 90-quarter units (or 60-semester units) academic credit - students transferring from a community college may transfer a maximum of 105-quarter units (or 70-semester units); all other credits must come from a senior college.
Minimum 2.5 cumulative GPA for all freshman and sophomore coursework from accredited educational institutions; students with a 2.0 – 2.49 GPA may be considered for provisional acceptance
High school diploma or its equivalent (the GED is required)
Statement of purpose
Three letters of recommendation
Official transcripts of all previous undergraduate work sent by each previous institution to LLU
Complete prerequisites listed below
Prerequisites
Courses are listed in general education domain order.
Domain 1: Religion (8 quarter units)
(Completed during enrollment at LLU)
Domain 2: Arts and Humanities (min 16 quarter units)
Units must be selected from at least three of the following content areas: civilization/ history, art, literature, language, philosophy, religion, or general humanities electives. A minimum of 3 quarter units in an area are required to meet a "content area."
Domain 3: Scientific Inquiry and Quantitative Reasoning (min 12 quarter units)

College algebra or statistics.
Additional units must be selected from any of the following content areas: biology, chemistry, geology, mathematics, or physics, and one course must include a lab.
Domain 4: Social Sciences (minimum 12 quarter units)
One course (or components integrated into several courses) dealing specifically with issues of human diversity is required.
Select additional units, as needed, from: anthropology, economics, geography, political science, psychology, and sociology.
Domain 5: Written and Oral Communication (minimum 9 quarter units)
English composition, complete sequence that meets the baccalaureate degree requirements of a four-year college or university.
Introduction to computers.
Oral communication, public speaking, or interpersonal communication.
Domain 6: Health and Wellness (minimum 2 quarter units)
A didactic course in health or nutrition (e.g., personal health, personal nutrition, population health, global health, and community nutrition) minimum of 2 units
Physical education. Must include at least two separate physical activity courses totaling a minimum of one quarter unit.
Other
Medical terminology
Electives
Some students may need to complete additional elective coursework to bring their overall course unit total to a minimum of 180 quarter units while enrolled at Loma Linda University in order to meet graduation requirements.
For total unit requirements for graduation, see LLU General Education Requirements (this link is broken by the way)
Professional Core
Health-care professional units may apply. Details will be discussed on a case-by-case basis with the program director.
Discipline Accrediting Agency
Loma Linda University is regionally accredited by Western Association of Schools and Colleges (WASC) Accrediting Commission for Senior Colleges and Universities.
State Accrediting Agency
State laws across the nation require universities to be authorized to legally deliver online education to students residing in states other than the home state of the institution. To view the list of states authorizing Loma Linda University online students, go to this website.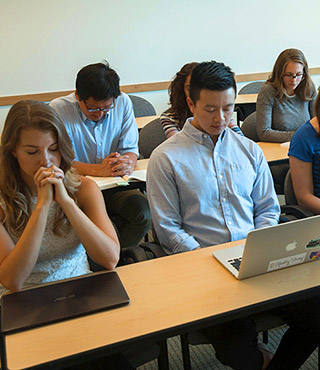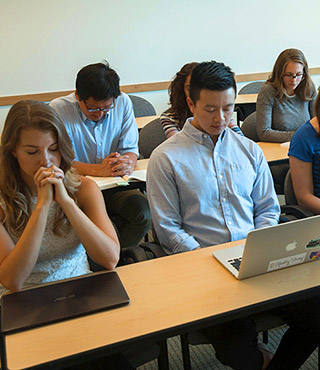 Integrating faith and health
Loma Linda University educates and encourages a balanced life by living our values of humility, compassion, justice, integrity, excellence, freedom and self- control. You will be surrounded by faculty who are committed to healthcare innovation and research while engaging your spirituality.
Expected Cost of Attendance
The following estimated cost of attendance is based on full-time attendance for the number of months enrolled per academic year. Estimated amounts may vary based on a number of factors. Students may use these estimates when applying for financial aid.
Required Program Costs
Academic Year 2023-2024
Year of Program


Months Enrolled

Year 1


9

Year 2


9

Tuition & Fees
$24,500
$19,600
Books, Materials, Supplies & Equipment Allowance


(May or may not be purchased through the school)

$3,000
$3,000
Other Educational Costs
Non-required costs that can be funded with scholarships/loans.
Year of Program


Months Enrolled

Year 1


9

Year 2


9

Living Expense (Food & Housing Allowance)


Students will be assigned one of the following Living Expense Budget Options:

On Campus Dorm
$10,800
$10,800
LLU Owned Rental Property
$17,280
$17,280
$18,180
$18,180
Undergraduate Dependent w/ Parents
$6,480
$6,480
Off Campus
$17,280
$17,280
Transportation Allowance
$3,150
$3,150
Miscellaneous Personal Expenses
$2,700
$2,700
Federal Student Loan Fees
$79
$79
Cost of Obtaining Professional License
0
0
Dependent Care


(See Budget Revision Request form)

Available upon Request
Disability-Related Expenses


(See Budget Revision Request form)

Available upon Request
Notes
Estimated amounts are for the academic year specified only. Amounts are based on full-time attendance for the number of months enrolled per academic year. International students need to calculate 12 months of living expenses based on these amounts.
Amounts are expected to increase each year consistent with inflation in the professional education sector.
To qualify for financial aid, most students must be enrolled at least half time in an aid eligible program and be taking degree requirements. Half time is 6 units in a quarter for undergraduate programs and 4 units in a quarter for graduate programs.